Consolidated
Dropped (Sol 3 Records)
By: Alex Steininger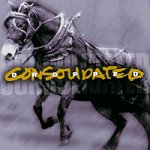 Consolidated is much more than a band. Consolidated is Adam Sherburne's way of getting his messages across, as well as his way of supporting, and bringing attention to, the activist groups he believes in -- too many to mention. A fight for human equality, his music deals with prostitution, rape, domestic violence, homophobia, and many other topics he believes needs to be openly discussed. And just as diverse as his beliefs, his music represents such influences as hip-hop, jazz, industrial, blues, pop, techno, dance, punk, and rock.

An angry rebuttal to London Records decision to drop Consolidated, "Schnitzel Boy" is a hip-hop rocker with blunt lyrics about the industry being "all about me." Strong lyrics, samples regarding being dropped, members quitting the band, etc. this song is a big "fuck you" to the industry that just couldn't tolerate brutal truth and sympathy for others problems.

Hitting on a deeper subject than money-hungry record executives, "One Way Out" is a soft, pop-jazz number that deals with suicide. As always, Adam Sherburne's words make the song, and direct your attention to the problems around your community rather than the music. The music is creative and innovative, but with so much influences blended into one sound you generally get lost in the array of musical symbols. But, with their mind and lyrics in the right place, they're able to keep you thinking about society's big problems (which is the point of the music).

Another topic very important to the band is homophobia, which is discussed on "I'm Sorry Mat." Fusing techno, pop, and rock, the music once again takes the backseat to the lyrics. A driving force behind the song, and the album as a whole, Adam's political lyrics are what Consolidated is all about.

Then there is "Recovered Memory (The Perp pt. 1)" and "Why Doesn't He Stop? (The Perp pt. 2)" which come out and openly admit the lyrics and strong political content is what the music is all about. That is because the music is faint, while the samples and voices are dominant -- the music doesn't even really have a chance to speak. Of course, there are the parts where the samples stop and the music takes over, but the music still is not the focus. You're mind will be concentrating on the issues at hand.

A strong political band with their minds and hearts in the right place, the only problem is the music isn't all that great. It is eclectic -- which is good in that respect -- but as far as jumping out and grabbing you, you might walk away with a different stance on an issue, but you won't walk away with a song stuck in your head. Maybe that is the intent? If so, they succeed. From a lyrical standpoint though, it is quite good. I'll give this album a C.