Bingo
H-OM (Undercover Records)
By: Alex Steininger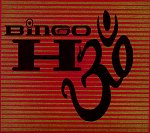 Twenty-nine year old Kevin Richey used to be the banjo player for one of the Northwest's hottest bluegrass bands, Golden Delicious. But, as the end became near for the band, Kevin started working on his solo album (he goes under the moniker "Bingo"). Fusing American folk with Eastern India blood, he brings Western and Eastern folk together in one musical collage.

Starting off with an American folk number, "Baby Where You Been So Long?" gives you your first taste of Bingo. Kevin's voice is soft and laid back, complemented by his acoustic guitar. The bass slowly crawls through the song, dripping like raindrops, while the fiddle helps add a soothing vibe. The song is very relaxing and easy going, yet still manages to latch on to your attention and keep you listening.

Bringing some experimental rock fusion in to the folk mix, "Tornadoes" builds on the calm nature of the opener with some sharp hooks that prove nearly impossible to resist. Ringing in the chorus are the words, "Won't you please come in and make my world just a little bit smaller." Sang with passion, Kevin's tired, yet gentle, voice drags you closer with sympathy and then spits you back out. Scatter a few hooks about the song, and you've got a folk-rocker that will spin around your head until you're spinning around the song.

Tingling with country, "Walking Boss" features former Golden Delicious guitarist (and amazing solo artist) Pete Krebs on harmonizing vocals. Although his back porch, down home voice is mixed down in the song, its faint presence can still be felt. Thus, adding to the song. Richey still manages to carry the song on the heels of his guitar and vocal work, leading the song through laid back waters that start to ripple when some rockin' licks are thrown into the song.

Krebs once again pops up on "Same Old Man," which molds an Eastern Indian backdrop over an American folk front. The surface of the song feels and acts like a really soft folk number, but the inner workings dazzle with the Eastern influences that give it a very distinct sound. Also featuring Saffs (the sitar player from Cornership) on sitar, the musicianship seems to rise to an all-new level with so much talent pouring in their efforts to the song. The only sad thing about this song is the fact that Krebs' vocals are even harder to hear than on "Walking Boss."

Trying something new (which you'll come to expect on this album), Richey ends with an A Capella number that feels like a down home country number, yet the instrumentation isn't there to fully back up this claim. You'll have to use your own imagination to interpret Richey's voice, virtually imagining the song in whatever light you want.

Stretching out and creating a style that represents all his influences, Richey delivers some great songs on this disc. Although his American folk seems to be when he is at his peak, the addition of Eastern influences helps keep the album from going stale. Each time you listen to the disc, you'll take something different from it. I'll give it an A-.