17 Reasons Why
The Dark Years (Laundry Room Records)
By: Alex Steininger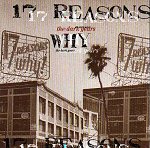 Smart pop songs will take you where you want to go, as Portland, Oregon's 17 Reasons Why will attest to. Blending folk familiarity with a solid pop-rock foundation, Sattie Clark and crew create pure, female-fronted acoustic pop music that is quite entertaining. On your first listen you will embrace the sound, and each consecutive listen will have the music wrapping tighter and tighter around you. Winning Musician Magazine's 1998 Best Unsigned Band Competition seems to be just the tip of the iceberg for this band.

With an upbeat flow running through the music, "Look For You" kicks off the album with some soothing female vocals over acoustic guitars and a solid rhythm section. The drums hammer down the song like a nail in wood, keeping the beat ringing in your head, while the guitars sail over troubled waters that offer hope. Sattie (the vocalist) reminisces about a past love she can't get out of her mind, while the music takes us to a place in our minds where we too can relate to what she has to say. The combination of vocals that think while they sing and a burst of tight melodies make this song a classic opener. But, they keep getting better as the disc progresses.

"Independence," one of the strongest cuts on this album, keeps the soft pop coming along with Sattie's gentle, picturesque voice that has no problems getting you thinking vividly with every word. With one hook they leap into the chorus, drawing you into their world and making you take notice. Using independence as a metaphor for love and alienation, the song brings forth the notion of being free while also clinging to love as a form of shelter. Of course, the lyrics are written in such a way that if you turned your head and gave the song a second glance, you might just walk away with a whole new meaning for the song.

But, the band is also capable of expanding past the pop-rock sound found throughout this disc, like on "Birthday." Implementing portions of blues and folk, with a nightclub scenario as the backdrop, their brand of pop blends nicely with the newly added elements and offers up another flavor of what this band is capable of.

Then there is "Mercy," which adds a funk drive to help boost the energy level and keeps the excitement level flowing. Still a pop song, the funk vibrations show their heads here and there and help liven up the party.

Ending on a singer-songwriter note, "White Linen" keeps the standard guitar/voice companionship alive while adding violin, cello, additional backing vocals, and some extra guitar work to form a truly blissful pop number that is emotionally strong and delicately provocative. As you listen, you'll feel sad, and then grow into the song and find comfort in its sonic glow.

With VH-1 exposure already under their belts, 17 Reasons Why mature pop ballads and acoustic soul is sure to warm the hearts of all that hear them. A strong album from start to finish, I'll give it an A.