VARIOUS ARTISTS: Together We're Stronger
A Worldwide Hardcore and Punk Compilation (Struck Out Records)
By: Alex Steininger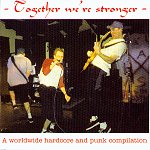 Struck Out Records' first release is a worldwide punk and hardcore compilation. TOGETHER WE'RE STRONGER helps re-enforce the unity and brotherhood theme that lives through hardcore music and its fan base. Twenty-five tracks in all, by thirteen different artists, help give you over sixty-four minutes of bone shakin', fist-pounding hardcore and punk music to slam dance with.

Ranging from horrid to aggressive and energetic, this compilation brings forth bands of every caliber within the hardcore confines and puts them together with the message, "Music is the international language."

Opening up the disc is The Netherlands' Crivits. Putting one of the best tracks at the beginning, you're instantly drawn in. Feeding off the energy of the music, you can't help but want to get up and run around in a frenzy. Knuckle-breaking drums push the music high up on the aggression chart, as the guitar and bass scream through the music with fury. The vocals, though, keep a melodic sense present and give the music the crunchy, sweet flavor that truly impacts.

Musically, the rest of the disc stays the same. The style doesn't really change, although some tracks reach a lot deeper into the hardcore spectrum than the opener does. We're talking heavy, scream-filled vocals and monster guitar riffs -- the works. But, what does change is the quality of musicianship and sound. Riding like a roller coaster, the music may not always be the best it could be, but it always packs a wallop and keeps your heart pumping blood faster and faster.

Bringing together bands from around the world on one disc isn't always the easiest thing. Not representing certain parts of the world as much as it should have, and over representing some parts, this compilation doesn't really live up the 'worldwide' title as it could, but what it does do suffices. I'll give it a C+.