VARIOUS ARTISTS
It's A Punk World...After All (Strap-On Records)
By: Alex Steininger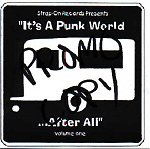 Another in a slew of punk rock compilations, Strap-On Records has released a twenty-seven track disc featuring twelve bands. Each band contributed either two or three tracks, except the Exploding Crustaceans who contribute the "Strap-On Theme Song."

Compilations never really do it for me, because you're either listening to a band you can't stand or you really get into a song and want to hear more of a certain band, only to be such down on the next track when a mediocre band comes on. But here, with the bands contributing more than one track, you get an actual taste of each artist. The original intent of this project was a series of 7"'s, but it worked out into a CD.

Ripping Off Society starts off the compilation with the theme song for the compilation, "Punk World," a punk rock take on the poppy, children song "It's a Small World." Hammering drums, slicing guitars, and a chunky bass -- not to mention a punk rock lyrical touch and snarling vocals -- help get the compilation going with a kick. Of course, their other two tracks ("Hey Ugly...Tortured Innocence" and "The Goodnight Song") are both great tracks as well.

Then there are great stand out bands like The Nimrods ("New Sensation" and "Don't You Want Me?") and The Leftovers ("Change the World," "Your Mom Wears Combat Boots," and "Lola"). Actually, The Leftovers' "Change the World" and "Lola" happened to be my two favorite tracks on this disc. Both were energetic go-getters with mighty punk fury, but were still capable of making you take notice and sing-along.

The sound quality differs dramatically from band to band. Some are quite good (The Leftovers, The Nimrods, and Ripping Off Society), while others just aren't that good. As a whole, the compilation is a nice, rough D.I.Y. piece of work with some stand out bands. I'll give it a B-.