Full
Hotdogwater Cocktail (ACME Entertainment)
By: Alex Steininger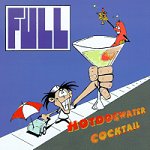 Keeping their punk simple, yet powerful, Full maintains the bare essentials with their three-piece outfit (it seems hard to spot a three-piece these days). Hailing from a city with so many punk bands -- Chicago -- it can often be hard to maintain a distinction. But Full is able to stay above the generic line, whipping up pop-punk that has their name stamped all over it.

Right from the opening vocal and cymbal medley in the beginning, Full grabs your attention with sharp hooks. Their pop-punk composition is very tight, full of energy, and packs a nice wallop. The only thing that seems not to fit, though, is the vocals. They are very awkward. They just don't seem to go along with the pop-punk flow of the song.

This trend continues throughout the disc. The music is tight, very catchy, and highly energetic. But the vocals get annoying after awhile; they have a British feel to them that just doesn't agree with the music spinning behind them.

Listening through the whole disc, the vocals never change. They begin to grow on you after awhile, but there is always this bad aftertaste that warns you that something is wrong here. It's just not a combination that works. I'll give the disc a C-.