INTERVIEW: angloCanadien
Interview with Farzana Fiaz of angloCanadien (angloCanadien)
By: Bernadette Giacomazzo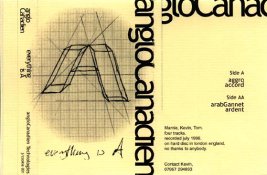 Tom Patrol seemed like a sure thing. Snagging their name from the British slang for "prostitute hunting," they flaunted their style with an enviable line-up: Rose Carlotti and Steve Beswick of the HeartThrobs, Pol Burton of Transvision Vamp (briefly!) and Angora, and Farzana Fiaz. They played gigs all around London, they sold their music to a CDIY site for your enjoyment, and they gave it their all in RealAudio format.

Liam who?

But the best laid plans...well, you know. Farzana Fiaz, the band's keyboardist, describes it this way: "We didn't get very far - sadly. It's rather complicated. Basically, we ran out of money and couldn't afford to keep gigging, and then everyone seemed to disappear over the summer." It was over before it even began.

Take heart, indie fans: Fiaz is not one to wallow in self-pity. She dropped her keyboards and picked up the bass. When she hooked up with Kevin Narrainen of Olivia Honey, the multi-talented Tom Moreton, and the vocally gifted Melanie Ford, angloCanadien was born.

So, how does one describe angloCanadien? Well, if you download the soundclips from their official website (http://www.anglocanadien.fatbeehive.com), the words Black Francis may come to mind. Not since Bleach-era Nirvana has a band been so Pixically inclined.

Fiaz, though, won't allow a pigeon-hole. "It's a kind of Pixies/Sonic Youth band, but it's also a big bunch of other stuff. It's terrific fun!"

Fun?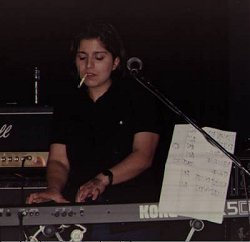 Indeed. On their first LP/tape, Everything is A, the band abandons all pretension and gives it their all. Using the latest in technology(the tape was created entirely with Apple Computer programs) while staying true to a stripped-down sound that lets you experience the band -- warts and all -- Fiaz and company rip through the songs that will make the whole world sing. "Arab Gannet" and "Ardent" are guaranteed signatures, while "Aggro" and its related live version taps into the bloodline of the band's synergy.
Is it possible that four songs could create such a buzz? Sure. How quickly, after all, could we forget R.E.M.'s Chronic Town LP? "There's someone in Canada who wants to put out some CDs for us, and we've also been added to the MP3 server(http://www.mp3.com) All of the songs, so far, are Tom and Kevin's, but Melanie and I are in the process of writing one together and...I think I've just about got another one that I want to finish over Christmas, so hopefully we can get some more group songs soon."
angloCanadien will be playing London's Dublin Castle on January 16th and the Bull and Gate on January 29th. If the songs are any indication, you're in for a real treat! You can also get updates on the band by subscribing to their newsletter on their official homepage. Hopefully, Farzana Fiaz and angloCanadien will be delighting us with music for years to come.