Sow
Sick (Invisible Records)
By: Alex Steininger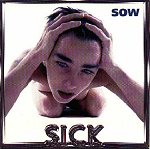 Never have I received naked slides of the front woman in a band -- until now. Quite a promotional tool to catch the eyes of a journalist. I must be honest. I looked and it caught my eye. It got me listening to the music right away. The person in question is Anna Wildsmith, the vocalist and lyricist behind Sow. One thing is for sure, too, she must like to be nude. All photos in the album (including the cover) depict her without clothes on. But that isn't what the music is about, or is it?

As Anna herself appears naked, so does her music. It isn't dressed up with pretension, lies, or sidetracking trips to take your mind away from what is really happening. Instead, everything is straightforward and brutally honest. As the music grows on a dark essence, so do the lyrics. You can tell Anna's been in love before, or had numerous obsessions, because her lyrics center around intimacy, sensuality, and the workings of human relationships.

A strong passion for both the music (which is written and played by her 'boys' -- Raymond Watts, Euphonic, Sascha Konietzko, Hoppy Kamiyama & Optical 8, Martin King, and Guenter Schulz) and the lyrics, Anna may appear fragile through photos, but her voice shows another side. Powerful and brutal, her voice is about as strong, domineering, and confident as they come. Gruff and filled with a rough edge, her shouts do not get ignored.

With a voice and lyrics to pay attention to, and backing music to keep the point swift and hearty, Sow rounds out their music with a lot of content to please the listener. Although instrumental electronica has its strong points, it is so much nicer to sit down and enjoy a record with some lyrical content -- such is the case with this record. I'll give it an A-.