Project Dark
Excited by Gramophones Volume 4 (Invisible Records)
By: Alex Steininger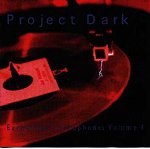 "This spectrum of useful noises, together with turntables taken out of retirement and persuaded to misbehave again, has led to the creation of raw material for Project Dark to work with, in collaboration with assorted like minded spirits not scared of orchestrating an explosion or two," states the "Dust Jacket Disc Jockey Sleeve Notes."

When I first put in this disc and started to listen to it, it just sounded like a mesh of various noises -- nothing resembling "useful noises." But, with the drum machine pulsating throughout the music and making all the sounds come together, as well as the use of a turntable, the album eventually embedded itself inside my head and started to rattle around there much like it rattles around on disc when it comes out of your stereo.

A good description of the music can be found in the name -- Project Dark. A collection of sounds that appear in your dreams, nightmares, and thoughts, Project Dark's sound is a universal melting pot of all the sounds you've ever heard and couldn't -- or didn't want to -- explain. A DJ record by way of jungle, techno, and industrial grooves, the mastermind behind the sound, Kristen Reynolds, is able to conjure up plenty of thoughts in your head that will only add to the music.

Pretty far out there, while still being very down to earth, the record represents a new millennium of where music can, might, and possibly will go in the future. I'll give it a B.