Meat Beat Manifesto
Actual Sounds + Voices (Nothing Records)
By: Alex Steininger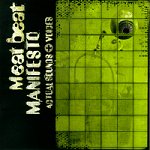 Pushing the limits of such electronica sub-genres as big beat and drum & bass, Meat Beat Manifesto and their leader, Jack Dangers, take dance beats and push them even further on their latest album, ACTUAL SOUNDS + VOICES. In a time when anything and everything is on the verge of the 'next big thing' trend, MBM shove all the hype aside and play powerful, provocative, hip-shakin', acid-drenched music that is sure to provide the visuals and sounds for many nights and parties.

As you sit and listen to the album, the drum machines will draw you in with their bounce, shake, bounce rhythm while the various other sounds and noises will rattle around in your head until they've got you in a position where they can take control and flow through your mind with ease.

The first single, "Acid Again," starts out with a man asking a women if she's "really happy." After an explanation and a conversation about drugs, she states she'll "never take acid again." From there, the song drips into a world of spacey beats and high-powered rhythms. The various voices spin through the song like a bad dream that you can't let go of, while the women's "never acid again" line pops around in the song like a rigid spell that, although you want it to be true, eats away at you until you break it.

Hypnotic in a sense, and compulsive in another, the album, no matter how many times you listen to it, keeps the unexpected coming while putting you in a trace that will have you moving along to the beats. You'll sit and stare at the wall as the music starts, and by the time you're knee deep in it your whole body will be curving and shaking to the sonic vibrations coming out of your speakers. The album breaks new ground, serves up something old and comfortable, and keeps your ears attentive throughout. I'll give it an A.