Lubby Nugget
Flying Blue Rat Bites Punk Rock Horse (Grubbynun Productions)
By: Alex Steininger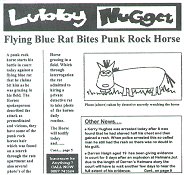 Ska-punk from the UK, Lubby Nugget truly embraces the D.I.Y. spirit. CD-R'ing their discs, and creating their own booklet and CD tray card, their independent spirit deserves applause. A seven-piece act, on this five song EP they offer up some potentially catchy and enjoyable ska-punk tunes.

"Flump," the opener, rips into some splintering guitars, hammering drums, and powerhouse bass, along with some melodic horns to fully compliment the music. The vocals go well with the music, making the overall package a nice, complete one. Jumping through different song parts here and there, they stray away from the head-on ska-punk approach for some calmer moments. But, once they realize they've lost your attention for doing this, they jump right back into the ska-punk that whips you into a frenzy. Not very danceable, the music has enough punk beats to still keep you satisfied.

With the title alone, "Seymour Butz," shows just how serious these guys can be. Never taking themselves seriously, the whole point of their music is to just have fun. And they do a good job of that, too. Of course, as you listen to them having fun, you've got to join in. Dropping the ska for this number, they concentrate on their punk side. More focused when they keep it to one style, the song is a catchy punk ditty that spins and whirls around in your head. Not concrete solid, it does show the potential these guys have.

Obviously a band that wants to have fun, they are able to jump into the music and get you going. Not always solid, they are always having fun -- which rubs off on the listener by track five. Still, they need some work, but what they have is a good starting point. I'll give this disc a B-.