Various Artists: VIETNAM
A Musical Retrospective (Universal Records)
By: Alex Steininger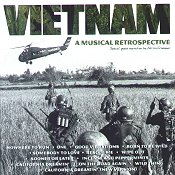 More than music, VIETNAM: A MUSICAL RETROSPECTIVE paints a vivid image of both men in pain, and men enjoying music. Music seems to be the one constant factor that was able to keep our troops sane while they were in Vietnam. With special guest narration by Adrian Cronauer (the DJ for Armed Forces Radio in Vietnam), the stories he tells and the pictures he paints bring the everyday importance of music home, while reminding us just how lucky we are. Often sad, the music helps lift up your spirits (just as it did for the troops) after harrowing tales of life in Vietnam from Adrian Cronauer.

A wide range of hits -- celebrating the diverse, eclectic tastes of the various walks of life that were led by each soldier -- find their way onto this album. Martha Reeves & The Vandellas' soul-pop "Nowhere To Run" plays next to Three Dog Night's "One." Then, The Beach Boys' "Good Vibrations," Steppenwolf's "Born To Be Wild," "Wipe Out" by The Surfaris, and two versions of The Mamas and The Papas "California Dreamin'" fill out this disc. Even with fourteen tracks (twelve if you subtract the "Show Opener" and one version of "California Dreamin'") they're able to paint a semi-accurate portrayal of what was going on at the time, musically and emotionally.

But, the real treat here isn't the music. Sure, there are several hits on one disc. If you want hits, though, stay up late and order them off TV. The real draw here is Mr. Cronauer's stories. Speaking from first hand experience, his voice is calculated and caring. He is able to tell a story with so much realism, you won't want him to stop. There were times I was disappointed that music came on, because I just wanted to hear his stories more and more. Even after listening to this disc several times, I never got tired of hearing the same stories over and over again.

If you want to learn a bit about Vietnam from a DJ's perspective, as well as sample some hits from the time, then I recommend this disc. Plain and simple, it's a musical history book with an interesting narrative. You can't go wrong...I'll give it an A-.