VARIOUS ARTISTS: RARE ON AIR
Volume Four - Still more selections from KCRW-FM on-air performances (Mammoth Records)
By: Alex Steininger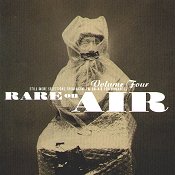 "Morning Becomes Eclectic," a popular weekday morning show on Los Angeles' KCRW, has been breaking new ground since its inception in 1979. Combining pop, world beat, jazz, African, reggae, classical, and alternative music, more than 450,000 listeners tune to the station for its eclectic and innovative award-winning non-commercial program schedule. Another installment of live performances from this successful show can be found on Rare On Air: Volume Four.

Including such artists as Afro-Cuban-Hip-Hop's Ozomatli, folk's Ani Difranco, pop-masters Radiohead, Marcy Playground, Joan Osborne, Gus Gus, Jeff Buckley, and Sarah McLachlan make this a showcase of both major label and indie artists alike.

"Cut Chemist Suite" by Ozomatli starts off this disc with a real zinger. Fusing African, Cuban, and hip-hop influences, their music seems to exemplify everything "Morning Becomes Eclectic" stands for -- music with no barriers and no specific style, and its only 'agenda' is true expression. Laying down some heavy beats with fast spitting words, these cats know how to get on the mic and really go wild. Their music is both creative and enjoyable, as they put their heads together and form a truly revolutionary, innovative sound that boarders on genius.

Although Ozomatli was quite amazing, Ani Difranco's "Gravel" was the highlight for me. An all-acoustic folk-rocker, her voice portrays anger and regret in equal portions so convincingly, you can't help but sit there and have sympathy pains for everything she is feeling. The acoustic guitar is both sharp and edgy, helping to play with the angry side, while still soft enough to play with the regretful side.

Undeniably catchy, Marcy Playground's "Sex and Candy" has already tore up the charts and brought the band platinum success, but hearing the song live gives it a lot more realism. Not as slick as the album version, this one portrays both the band and the song's emotions with life, helping to accent their flaws and pains while allowing for the song to be go down easier. Simply put, I like this version a lot better than the studio version that has been over-exposed on radio nationwide.

Always a sure-fire winner, Sarah McLachlan's "Good Enough" lets you see why she is a great artist on recording, but an amazing artist live. Her voice is so beautiful, no matter what topic she's dealing with, you'll fall head over feet for her sweet, enchanting vocals. They'll melt you like butter one minute, and soothe you over the next. Backed by just a piano, this soft pop favorite will bring tears to your eyes while putting you at ease.

Other artists to make this way on this disc include Tim and Neil Finn, Soul Coughing, Mazzy Star, Cafe Tacuba, Randy Newman, and Tom Waits. As you can see, eclectic truly is the word of the day while listening to this CD. With a lot of diversity, supported by a lot of today's hottest artists on all fronts, this disc has a lot going for it. I'll give it a B.