Gwen Mars
Gwen Mars EP (Richter Records)
By: Alex Steininger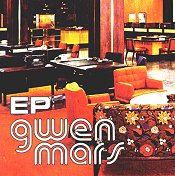 Los Angeles' space-pop/Brit-pop/power-pop trio, Gwen Mars is able to bring in various pop influences to form an eclectic pop sound. Always flowing with amped up guitars, hammering drums, and pounding bass lines, they have no trouble turning your ears towards them.

Such is the case with "Big Wheel," which possesses a big, guitar heavy bite. The drums hammer away, helping to back-up the big guitar sound and give everything some more momentum. Then there is the bass, which boosts a bold flavor, helping to strengthen up the sound that much more. The vocals are able to spit out a melodic yell, hard words, and softer singing with the same punch to them all. Filled with hooks, "Big Wheel" will instantly grab you and make you a fan.

"Battery" is another guitar-driven, powerful number. The verses are a bit softer, helping to lead up to the chorus. But when the chorus hits you, it hits you hard. A nice, mid-tempo song, you'll find yourself singing along and having fun with the verses, and then bouncing and moving to the chorus. Quite the combination, Gwen Mars seems to be at it's best when the amps are roaring.

They do play a bit softer, such as on the opening to the closer "Blender," but it doesn't move you as much. When they jump into the amps, though, you'll find yourself into the song. But, then they move right back into the very soft, and faint, beats that began the song, which quickly turn you off. A spacey/Brit-pop sound, it just doesn't measure up to the fierce nature of their other material. Like I said, they're at their best when the amps are cranked up.

This five-song EP demonstrates a very powerful band at work. Whatever you may think of American Brit-pop bands, put that aside, because these three will erase any doubts you may have and give you a new outlook on the whole 'Brit-pop' genre. This disc has me warmed up for a second full-length (their debut full-length is entitled MAGNOSHEEN), and it will do the same for you. I'll give this a B+.