All Done With Mirrors
A Le Grand Magistery Compilation (Le Grand Magistery)
By: Alex Steininger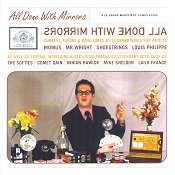 Vastly spanning the pop spectrum, Le Grand Magistery has decided to release a compilation that not only displays their artists, but also shows other pop artists they really dig. Seventy-two minutes of music, spread out over nineteen tracks, gives the album a beautiful pop feel, while never forcing it to play with one style in the huge genre.

Leading off with two tracks from Le Grand Magistery recording artist Louis Philippe (who has three rare tracks on this disc), everything begins in very artsy form. "Sunshine" is a stirring pop medley of various influences. An instrumental track, the weird nature of the song doesn't even come close to prepare you for the second track, "She Means Everything To Me." Easily described as a pop-rock ditty, the song is obviously so much more. Using orchestration and various instruments to back up the beautifully sweet vocals, the song carries on with fluent pop motion, but portrays an eerie nature unlike any other pop song I've heard before.

A 17 year old Thai-Parisian loungecore singer, Laila France's "David Hamilton (Original)" just keeps the original pop melodies live. Dealing with nude 'art' photographer David Hamilton, the song plays with your curiosity and your sense of humanity. As you sit there and listen to Laila's voice, as she spits out each word with such spirit, you can't help but become confused. Is the song praising David Hamilton for his art, or is it a stab at him for his pornography? Eventually you'll stop trying to read the song and just enjoy the music.

After hearing several artists for the first time, K Records' The Softies help put some familiarity into the compilation for me. "Perfect Dear" is an a Capella number that will send chills down your spin. Rich, beautiful vocals make up for the lack of instrumentation, and make this song one of the brightest tracks on this disc.

Another Le Grand Magistery artist, Mr. Wright and his contribution, "Hangover Square," become one of the highlights of this compilation. Centered around his soft, laid-back vocals, the song calls upon your emotions, while working with your love for a good pop hook. Combining these two senses, he holds you in the palm of his hand. Delicate and rough, the song's gentle flow blows over you softly, but keeps your attention throughout.

This compilation is loaded with pop material that is abstract and diverse, making it a new experience for a lot of people (including me). As I sat and listened to this compilation for the first few times, everything kept striking me with the fact of how artsy and abstract everything seemed. If you're looking for a new, fresh sound, then this should be one of your first stops. I'll give it a B.