Refused
The Shape of Punk to Come (Epitaph Records)
By: Alex Steininger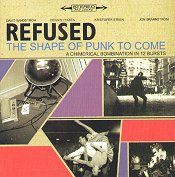 Prior to releasing their Epitaph debut, Refused broke up. A Swedish five-piece, they play hardcore with bits and pieces of experimentation fused in. The outcome is a very experimental album that shows the band was comfortable with their own sound, but in the end the music sounds like shapes and sounds unevenly shifted together.

As I sat listening to this album, I couldn't help but wonder what it was all about. One minute they're screaming and playing with fury, and the next minute the song breaks down into a somewhat electronica feel. There were times I almost got into the album too. The energy and intensity was so high, but then they came back and dropped the experimental bomb again, converting the song into a soft, spacey piece that went together with their hardcore sound as good as an acoustic guitar goes with hardcore music.

I kept listening, trying to see if it would ever grow on me. But, it never did. So I sat and wondered if the reason the band broke up was because they all wanted to go their own directions, tried to fuse their five musical ideas into one, but just couldn't manage it. The album made no sense to me, and sounded like a bunch of sounds forced together to be passed off as something 'new'. I'll give this album a D.