Radiobaghdad
665: Neighbor of the Beast (One Foot Records)
By: Alex Steininger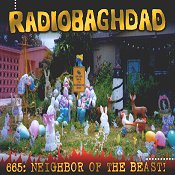 Hanging around as a band since 1988, it wasn't until 1995 that a label took notice. Releasing their debut CD on Friendly Cow Records, they instantly started to attract attention in Europe. Selling ten thousand CD's of their debut over seas, their follow-up did even better. Never achieving any success in their home state of Florida (or in the U.S., for that matter), Radiobaghdad went looking for another label. Catching the eye of California's Onefoot Records, 665: NEIGHBOR OF THE BEAST is the outcome of that deal.

Produced by All/Descendent members' Bill Stevenson and Stephen Egerton, Radiobaghdad automatically receives some punk rock recognition throughout the punk 'community.' But, from there, that this as far as they go. Generic punk rock, the music seems to be missing sparks to help propel it past the ground it stands on. The vocals are overly powering, never giving the music a chance to breathe or speak on its own. All the while, the music itself is nothing spectacular. They whip up a few good hooks here and there, give you some fast, reckless beats to feed off of now and then, and compile a few solid moments, but for the most part they keep everything very sterile.

Very little stimulation, and never a need to get up and react to the music, the band seems content to keep you in your chair as long as you don't get up and take their CD out. But, halfway through the album you'll feel the urge to get up and take the CD out. Give the CD a chance, and it still won't cut it. They just don't create enough of frenzy in their music, which is a crucial element of punk rock. I'll give this disc a D+.