The Offspring
Americana (Columbia Records)
By: Alex Steininger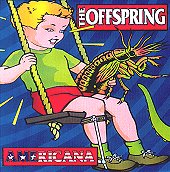 Selling three million copies of their debut major label release, IXNAY ON THE HOMBRE, The Offspring follow-up with another mixture of punk and powered up rock. "It seems that stuff that used to be the fringe is more and more the everyday reality. If America was once barbecues, big cars, and life in the suburbs in the 50's, it's now totally a freak show," explains vocalist and guitarist Dexter Holland on the meaning of Americana, and the general topic throughout the album.

"Have You Ever" possesses tremendous drumbeats, speedy guitars, and a powerhouse bass to start off AMERICANA with a very aggressive, energetic leap from the gate. A sense of melody also surrounds the song, allowing you to not only feed off the energy, but also get into the song and sing along. Not being a big fan of Dexter's vocals -- I find them to be quite annoying at times -- the way the song is composed helps to work with his vocals, making them an asset rather than an annoyance.

Their first single, "Pretty Fly (For A White Guy)," shows the band mixing up punk with a few other influences. Adding a slight hip-hop feeling, the song makes you laugh while making a point. Lines like "He needs some cool tunes, not any will suffice. They didn't have Ice Cube, so he got Vanilla Ice" and "Now he's getting a tattoo, yeah he's getting ink done. He asked for a 13, but they drew a 31" colorfully paint the picture of some loser white kid who's trying to be everything he's not. Doing a great job of emphasizing their point regarding the "world needing wannabe's," The Offspring have no problem keeping you listening. But, the choruses get mighty annoying with Dexter belting out some "uh huh, uh huh's" in a very annoying, ear-bleeding tone. Other than that though, the song is a comical punk song that possesses enough bite and humor to keep rolling around in your head over and over again.

Changing the lyrics around a bit to convey more hateful "Feelings," they serve up a punk cover of Morris Albert's classic "Feelings." Calling upon memories with the very familiar chorus, they change the verses around a bit to really shake things up. A tremendous rhythm section carries the song, while the dual guitars do a good job of adding chaos to the madness.

"She's Got Issues" shows the band at their peak when it comes to their fusion of melodic punk and intense rock. Dexter's vocals come off annoying the first time you hear the song, but from there they blend nicely with the groove of the song. Highly melodic, and a bit slower then some of the other tracks on this disc, they still manage to keep things pretty heavy and intense.

But the best track on this disc has to be the bouncy pop of "Why Don't You Get A Job," complete with horns and an inviting upbeat. The most infectious song this band has ever created, you'll find yourself singing and humming this song non-stop. Filled with hooks and bitter lyrics, there's all the more reason to keep on singing. The light(er) feeling of the song gives it an endless spirit, so you'll never get tired of this one. Ending with a sample that proclaims "Hey, that's something everyone can enjoy," I couldn't have summed it nicer myself.

A pretty good album with a lot of punk spirit, The Offspring may have hit the top with the sales of SMASH (which has sold over 11 million copies to date), but that doesn't mean their music is going downhill. They seem to getting better, while using the same formula time and time again, with each release. Probably their best one to date, I'll give this album a B+.