SHOW REVIEW: INDEPENDANCE DAY TOUR (The Toasters/Skoidats/Edna's Goldfish)
Sapphire Supper Club -- Florida
By: Jen Brown



As I sat outside Orlando's Sapphire Supper Club on a warm November evening, waiting for the doors to open to what promised to be an interesting night of ska, I looked around at the crowd. I felt as if I was back in junior high school. The majority of the crowd was quite young. Instead of hearing things like 'Hey, I know you, you came into the McDonalds that I work at!' I was hearing things like 'Hey, I know you! Your locker is next to mine.' It brought back fond memories of my early days going to concerts, having my parents drop me off at the door, and then picking me up several hours later.

It was close to eight o'clock before the first band took the stage. The 7 piece, Edna's Goldfish, straight from New York city left a great impression on the crowd. Their sound seemed to change throughout their set, starting out first being very hard, with heavy lyrics. Then later as their set progressed their style seemed to change to become more upbeat and happy. As at most ska shows, dancing was encouraged by the band, as long as no one started throwing fists or getting violent. With songs such as Invincible and 800 Miles From Nowhere, Edna's Goldfish did a great job warming up the diverse crowd.

The next band up in what was said to be the 'BIG ska show of the year,' were the Skoidats. Considering the venue that they were playing in was a bar, it seemed only fitting that they open with a drinking song. By the second or third song the band had the crowd moving. A few songs into the set, some of the members of The Toasters joined the band on stage. This added a certain two-tone flavor to the Skoidats sound. However, even without the help of the Toasters horns, the Skoidats still played a mean ska tune. Using not only guitars and horns, but also keyboards, an important element of sound that many third wave ska bands tend to leave out. Ending out their set in the same fashion that they began it, the Skoidats played yet another drinking song. Beer, Beer, Beer really got the crowd going. Imagine being in an Irish Pub, complete with drunken Irishmen singing their traditional drinking songs. Now add a bit of guitar, a lot of horns, and some percussion to that Irish drinking song, you now have Beer, Beer, Beer, the perfect way to end the Skoidats set.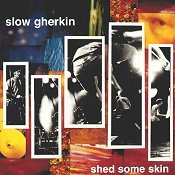 Next up, direct from Santa Cruz, CA, was Slow Gerkin. The band seemed to make good use of the small stage space that the eight of them had to share. Although the actual music was great, their lyrics were not too clear. That really didn't seem to bother the people in the crowd, because once they found that downbeat, they were just dancing like crazy. But that wasn't enough for the boys of Slow Gerkin, they wanted to be entertained by the crowd. Playing fast paced, energetic songs such as Another New Life, Reminder and Turned Off, it wasn't long before the band got their wish. In Get Some More, a song all about frustration, the emotion actually came through to the crowd via heavy bass and lyrics. But not to leave on a bad note, the guys played one or two more mirthful tunes, such as the title track from their new album, SHED SOME SKIN (Asian Man Records).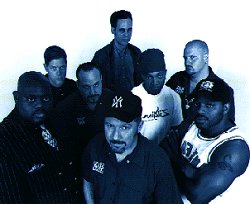 By this time, the crowd was warmed up and ready for the headliners, The Toasters. But wait, what's this? Not only was the crowd lucky enough to see the famous Toasters, but also as a special treat, Dr. Ringding all the way from Germany. And hey, Gainesville FL, home of Less Than Jake, isn't too far from Orlando, so how about we have a little Less Than Jake in the house?! Within seconds of starting the small club changed from a simple, everyday ska show to a huge party. Now, what party would be complete without some table dancing. Ok, well there really weren't too many tables, so the bar just had to do. As for the sound, we all know the Toasters are very two-tone, and that is just what style they displayed. Songs such as Talk is Cheap, East Side Beat, and Shotgun rang throughout the club. During their set, the band made it quite clear that their was to be no pushing, kicking, shoving or any other behavior that could cause harm to another, after all, that is what Two-Tone is all about, harmony. It is about coming together, people of all different backgrounds, sharing one thing, their love of ska music.