INTERVIEW: Pinehurst Kids
Joe Davis (Vocals/Guitar), Robler Kind (Drums/Vocals), Caleb Gates (Bass/Vocals)
By: Alex Steininger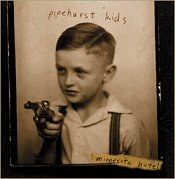 Back down to a three-piece, the Pinehurst Kids' blend of power-rock with poppy hooks and infectious melodies is still as powerful as ever. Sitting down before one of their biggest shows of 1998 (they were opening up for Mudhoney), we got talking about their debut CD (MINNESOTA HOTEL), touring, their forthcoming album and, of all other things, spiritual elements.

Alex: In your CD, MINNESOTA HOTEL, you talk about the Pinehurst kids. You also have a picture of a boy having some tests done -- blood being drawn in the hospital with a caption "They caught up with me in Portland and offered two full days of medical exams to see if 'Everything still works.'" Is this a true tale?

Joe (vocals/guitar): That's me! I'm from Pinehurst...

Alex: What's the whole story behind that?

Joe: The Sunshine Mining Company was mining for silver. And as they would slop through the ore, one of the waste products would be lead. They were totally out of hand, and didn't know what they were doing. The lead leaked its way into the water really bad, and they had to take out everyone's yard sixteen inches down and replace the earth because it was so lead contaminated.

Alex: Did this affect you in any way, or leave any lingering problems?

Joe: I guess it affects your circulation, your nervous system, and makes you a bit more hyper-tensive. Which, I probably would have been like anyway knowing my dad. He was a lot like that. But, I definitely have some weird health issues that crop up. I have asthma, which is probably a result of it.

Alex: Are they compensating you for this incident?

Joe: No, they're bankrupt. They're just trying to find out how bad it is and clean it up for the kids there now.

Alex: Did they track you down in Portland and run those tests on you?

Joe: That photo in the CD is from twelve, and I was really small. They were wondering if I was ever going to grow. So, they flew me into Portland from Boise and did all these tests on me. I thought the photo really made sense, so I put it in. They called me on the phone and asked me like three hours worth of questions, and then they offered two days worth of medical examinations in Spokane and were trying to get everyone who lived there to go. My brother went, but I stayed home because I couldn't afford to go there for a couple days, taking the time off work and everything, to find out what was wrong.

Alex: Which came first, the line "I'm the boy with the gun" from the song "Switch," or the picture of the 'boy with the gun' on the cover of MINNESOTA HOTEL?

Joe: I wrote "Switch" when I was in Five Times Fast. The song is about drinking -- getting really drunk and morbid, which happens a lot in the Northwest. But, sometime after that I located a photograph of my dad when I came home and was looking through all these old photos. I'll the photos, besides the one of me in the hospital, are of my dad. But that photo, the one with the gun, that was the coolest photo I've ever seen. It's so weird that it's of my dad. I totally wanted to use it. Then it kind of...as I went along I realized how much it interplayed -- the words and the photo. I didn't know that originally, though. It was all an unconscious effort. It wasn't until the CD was done and I looked at it that it all made sense. It's kind of weird how that happens sometimes.

Alex: Your debut CD is entitled MINNESOTA HOTEL. Is that a nod to bands in the Minnesota music scene, like The Replacements, who influenced you?

Joe: Yeah. Also, though, I had an office in the Minnesota Hotel building where The Rocket [A local music magazine] has their offices, too. We were walking along getting ready to do the CD design and Christopher Cooper, who runs Cavity Search Records, was and still is kind of our manager, looked at the name of the building and was like, "Oh my god! Joe, you should call the record that." We were like, "Yeah?" I mean, I love the Replacements, early Soul Asylum, and some of Husker Du, but it's more like Tim-era Replacements. Definitely not the whole scene, though.

Alex: How do you feel about the comparisons the Pinehurst Kids draw to The Replacements?

Joe: I think people need to have a way to categorize music. So, I don't mind because I love that band. But, I don't think we sound like them at all. I think the only reason it might be a valid comparison is because the lyrics might evoke the same types of issues. The music and delivery is way different, though. Maybe it's a spirit thing they're picking up on? We're not a cool band...

Rob (drums/vocals): When the Pinehurst Kids started out, for a long time we were stomping along as a three-piece. We had no expectations at all. We all had several bands in the past, and they all failed. So, I think at that phase we were similar because we were just getting really, really wasted and got up there to play for the fun of it. We were a lot sloppier and it was all about rocking out.

Joe: That was really fun. That era could almost be directly compared to the Replacements. Some of the first shows we did we would get so smashed we really didn't fucking care at all. We totally had given up on ever going anywhere. We were doing one show a month at EJ's, on a Tuesday, and that was cool. We were all about getting smashed.

Rob: It makes a hell of a difference.

Alex: Track six is titled "Black Box" in the CD booklet, but on the tray card it is labeled as "Gatsby." Which is it?

Joe: Well, that's an error. We have a little gray cat, who's lucky to be alive after he bit it really bad. It started out being called "Man on the Moon." Then it was called "Black Box." Of course, then I got the bright idea to call it "Gatsby." But I fucked it up in the booklet. It's fixed for the re-issue, all the way through. So, it's "Gatsby," after our little gray cat.

Alex: The band originally released MINNESOTA HOTEL by themselves, and now you have an independent record label, correct?

Joe: Yeah, Four Alarm Recordings. They're going to re-release MINNESOTA HOTEL in January. They're going to promote it, make sure it gets into stores, give us tour support, and maybe higher somebody to do college radio. Things like that. Then, they're going to release VIEWMASTER three or four months after the re-release occurs. We've been working MINNESOTA HOTEL for awhile now. We've done four West Coast tours, and one Northwest/Montana loop. We've taken the ball and ran with it as far as we can. They loved the record. We were going to re-master it, but they told us not to change a fucking thing. They really believe in it and want to use it to set up our next one.

Alex: How did your deal with Four Alarm come about?

Joe: They saw us at South by Southwest. Cal [bass/vocals] has a knack for giving away quite a few CD's. He gave away a fair amount, god bless him, when we first got them. It got to the point where he was buying them in bulk so he could just give them away to everybody. It's funny though, because one of the CD's he gave out to our friend Skip, who works at BMG, he passed it on to the guys at Four Alarm. They were getting ready to start a label, they used to work at Scratchie Records, and they came down to South by Southwest to check us out. They liked our showcase, but they weren't sure if we were on Cavity Search Records or not. A lot of people just assumed since Christopher was so involved with us that we were on Cavity Search. After they called us up and asked us to be on a Go-Go's tribute they found out we weren't with a label, and then they asked us if we wanted a label. Of course, we were like, "Yeah, that would be pretty great." So we decided to work everything out. Then they saw us at North by Northwest, and that really helped things along.

Alex: You guys have been working on a new album? Any information you'd care to share?

Joe: We have an eight-track in the basement, and we've had a lot of fun getting better recording ourselves. You're not on a clock, you can take as much time as you need. If you're not having a good day you can stop, or if you're having a great day you can just work for as long as you want. At least until the neighbors, which haven't yet, freak out. It's basically...I'm really happy with where it's going. A lot of people have been telling us they hope our next record is as good as our first one. I mean, you'd hope that for yourself, of course, but I think it's going to be better. You're supposed to say that, but I actually feel like it's going to be a better record. It's not totally different, either. I hate it when bands do one record and their next one is totally different.

Alex: Like SORRY MA... to DON'T TELL A SOUL in a two record time frame. That would be quite the leap.

Joe: Yeah. Just like totally different.

Rob: We're going to play around a bit more with the production. But, as far as the actual songs, the ratio of balls out rocking songs is the same. Then there are some other types of songs. The song structures are the same, but the songs themselves are thought out more.

Alex: Overall, the sound will be the same, but the songs will just be a bit more thought out?

Joe: Right. When we went in to record MINNESOTA HOTEL, we went in and just demo'd six songs. Then, we were like, "We know these other five, so lets record them." Then, we thought, "Why not just put it out?" So, we weren't even intending to make a record. We just did. This time around...on the last record I must have used the same guitar tone on half the record, or more. That's great for the first record. It's very simple. But it would be nice to explore the record a bit more. In that sense, it will be different.

Alex: So, the label's putting up a nice bit of cash to go into the studio and play around?

Joe: Yeah! It's not a great amount of cash, but it's perfect for us. We've already done a lot of the work ourselves, so its not like we're going to go into the studio and stare at each other. We've also worked on Larry on other stuff. I've worked with him with some graphic stuff, and Rob's worked with him for some other stuff, so there is a really family thing going on. It's cool.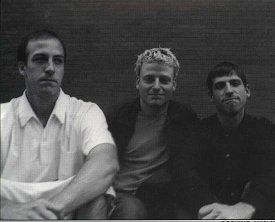 Alex: You've completed a few tours now, as you guys have said. How has people outside of the Pacific Northwest been receiving the band?
Joe: Our last show in L.A. was really cool. It takes a lot of work to get your name out. It seems each time we go out we get more fans. It's just one of those things where you got to keep working at it, and eventually you get critical mass. First time there is ten people there, and two or three of them really get into the band. They just spread the word, and you've got to keep going back. It steadily gets better, but...
Rob: I think, in general, the Northwest has been very receptive. It took us the longest time to get into Seattle. We played like three or four shows up there before people really started to get into us.
Joe: The Midwest...No, I should say the Mid-Northwest had its little depressing moments. Like, going through Montana and Idaho...
Rob: No, the Neurolux is cool. I like that place.
Joe: Yep! The hometown show. It's a great club for Boise, because Boise doesn't have any clubs.
Alex: Did you get a good response there? Were there a lot of people there.
Joe: Yeah, there was. It was really cool. The people that are in the scene down there are really cool, they've helped us out a lot.
Alex: The members of Pinehurst Kids are also in other bands. Are the other bands just some fun side projects, and Pinehurst Kids the 'serious' band?
Joe: Basically, the other things make for less sleep and a lot of creative scheduling. But, I'm going to play on the Richmond Fontaine record. I love that band, and I was a big fan up until they lost Steward as their drummer. But, the Pinehurst Kids...everyone in the Kids agree that this is their thing. I think typically try to help out other bands in the scene that need us. Like, Rob filled in for Sunset Valley on their West Coast tour, which really helped them out a lot.
Rob: This is actually the least active I've been in years. We all used to be in a lot of bands at one time.
Alex: Do you think landing a record deal has made you guys think more seriously about Pinehurst Kids?
Joe: Yeah, it's a priority. Definitely. You play music for so long and finally have some people outside your circle of friends who say they want to invest their time and money into what you're doing. That puts you in a headspace where you don't feel like such a jackass for wanting to do your band and giving it your best shot. So, I think it really helped clarify, for us, what we wanted to do. We felt vindicated in that we really had reached them and would continue to grow.
Alex: Let's talk about Crush Designs for a bit. Is that your guys' full time job?
Joe: It was for awhile. But, since the Kids have been touring and doing a lot more things...I started it, and I kind of put the breaks on it because I just want to do the Kids stuff. I started it because I was working at a band and losing my mind. My first CD, I put out a solo CD in 1993, and the graphics on it sucked ass. So, I decided to never let myself get fucked over like that again with graphics. Then I started to do a lot of graphic stuff. Like, I did the Sunset Valley CD design, and I did a lot of other CD designs and web sites. It's kind of like a graphics studio for bands in town now, rather than a full-time, corporate thing.
Rob: When he backed off on Crush, I started my own design company.
Cal (bass/vocals): Joe delivers packages during the day.
Joe: Yeah, I deliver packages during the day. But some day...Some day I hope to just do music. It's a tough thing, but it would be so awesome to just have to worry about playing music. Everybody in Portland is in a band...EVERYBODY! There are a lot of great bands here, too. But yeah, I would love to just play music for a living. I'd probably sit in my house and go crazy, though, not knowing what to do if I didn't have to work.
Alex: Do you still have copies of your solo CD available?
Joe: Yeah, yes I do. Its pretty funny, too.
Alex: What type of music is it?
Joe: It sounds very 1993. I'd never really sang before, but it was a way to deal with losing my dad the year before. It was a real, personal piece of work. I played all the instruments, did it myself, and recorded it with Drew at Dogfish Studios. You can kind of see the seeds of where the Kids went.
Alex: Is it an angry, early 90's Portland kind of thing?
Joe: It's very melon collie. It's funny, my voice has changed a lot. But, if you've never sang before, that's bound to happen.
Alex: What do you guys enjoy and hate about the music industry?
Joe: The music industry! I don't know, it's really a brutal thing to try and do. For example, the other day we got our re-pressed CD's and I was really excited. Then, for some reason by the end of the day I was really bummed out. I realized I was bummed out, and then I was like, "God, it's so hard to do music. This is such a long road." That's kind of how it is, though. I'll feel great for a little while, and then I'll be really bummed out. That kind of gets annoying, because it would be nice to just feel good, or at least middle-of-the-road, more often. But it's always the highs and the lows. Touring is fun, but it can be a grind.
Cal: We were talking about that last night. You just work your ass off, and no matter how you try or how good you are, you can be completely overlooked. There could be a point, which I think we're reaching right now, where there is so much music and so many channels for it to go through that are set up, that there might be a time when people stop caring -- stop getting excited about music. Hopefully not, because there will always be teenagers who always want to rock.
Joe: I agree, the industry is in a slump. But, you have to do something that takes you through the lean times. If I wasn't doing the Pinehurst Kids...I get a lot of therapy out of it, it really helps me through my little life. I'd do it, just because I have too. That's why I think a lot of bands explode. If they're not doing it for themselves or because they have to on some fundamental level, they're going to look at themselves and go, "What the fuck are we doing?" Because, it is really hard work.
Rob: I see music as something I have to do anyway, so everything else is just a way to either overcome or subvert. That's kind of the way I look at the music industry -- take what you can from it. And what you like about it, get involved with. And what you don't like about it, try and ignore it. That's kind of how the band approaches everything. We're very self-empowered as far as the music, and not really had many expectations. But, Joe is just a hard worker on all levels, so he's been able to break through and connect with a lot of people who would otherwise not have noticed us. Like our lawyers, he can actually talk to those people.
Joe: When we started to talk with Four Alarm and they wanted us to do a contract, we had already been contacted by six major labels right, and they were keeping tabs on us. They check in on us every month or so, and we tell them how the drug detox is going. Shit like that. Well, I asked them if they knew any good lawyers, and then I sat down and interviewed three of them. Now we're represented by a lawyer from New York City who also handles Verses, Twelve Rods...Actually, he doesn't do it directly, but his office handles Paul Westerberg. So, when I first talked to him we talked for like forty minutes about The Replacements. He heard our little three song, shitty demo tape and decided to work with us from that. I say shitty because it is a demo tape we did right after the album. It's a demo, you know? Well, he was like, "I love the tape. I haven't asked anyone about it or anything, because I don't ask people, I just know what is going to work." That really helped us a lot. It keeps us from getting fucked over.
Alex: Is there anything in the Pinehurst Kids' history that you wish you could go back and change?
Cal: Remember that time I took my shirt off at a show? (Laughter)
Joe: (Laughter) That was fucking hilarious. No, that was fucking great. I wouldn't want to change that.
Alex: What made you all want to be in a band?
Rob: Originally, so I could get into bars! Growing up in Bowesman, Montana, I didn't even want to drink at age 17. I just wanted to see the bands that came through town. It was a fucking boring town.
Joe: Then you found out about beer...
Rob: No, I knew about beer. At 17 I knew about beer and didn't really like it. But, I got the bright idea to start a band so we could get into the clubs by opening up for the bands that came through town. And, it worked. I got kicked out a lot, too. But I got to see a lot of great bands. Like the Dead Milkmen on their first tour, Husker Du on one of their middle tours, and we opened up for Green River.
Joe: I played trumpet for a year, and you know, trumpet? I didn't discover jazz for about a year after that, but I knew it was out there. I was heavily into classical trumpet and shit, and got a college scholarship off of it. The thought of playing trumpet for the rest of my life just didn't appeal to me. I would go over and get lessons, and it seemed like such a defeating thing for some reason. So I thought, "Shit, why don't I just get a guitar?" I already knew a lot of theory from trumpet, and then four months after I started, this one band asked me to jam with them. I knew the drummer, because we were really good friends, so I was in. We were going to do this one show, then one of the guys in the band thought we weren't ready. I was like, " I don't care if weren't not ready. Let's just fucking do it." So, we started a new band. And three days later, we had learned our whole set and played a show opening at a pizza parlor. Ever since then, I've been totally addicted to this shit.
Cal: I was fortunate enough to have supportive parents, and my sister was into music. So, I snagged her bass and learned to play it. Then she'd go get a guitar and I'd learn that. She'd go lock herself in her room, and hide from me. It was just a logical step. I just wanted to jam. Then in jr. high, eighth grade I guess...I don't think I've progressed so much musically, as far as my bass playing goes from when I started fifteen years ago, I just think over the course of the fifteen or so bands I've been in I've learned how to get along with people, and how to be in a band. Then when I moved into my house, my new house, these guys were on the couch drinking beer. I'd seen them before, and I was into it. So I was like, "You're the guys! I'm in your band!" They were like, "Whatever!"
Alex: What goes into good songwriting for you?
Joe: A lot of trauma, and a lot of pain. Basically, any time something really crappy happens to me, that's totally out of my hands, the payback is I'm able to write a song. It's funny, it always works that way.
Alex: What do you want the listener to get out of your music then?
Joe: I hate it when shit is really happy sounding, because that's not really reality. But, on the other hand, I hate it when shit is really depressing with no...I want to get to a good place through the music, and I hope people can go there feeling better even though things are fucked up.
Alex: Do you agree with Westerberg then when he says nobody has even written a good happy song?
Joe: Umm...people do it. I don't buy it. I don't listen to it. It's just not something I find myself naturally wanting. I mean, I like songs that are smart-ass happy. There is a lot of shit that is happy, and it makes me want to kill somebody when I hear it. So it is actually giving me the opposite effect. Maybe then, it is successful? It's getting a rise out of me?
Alex: Anything I left out that you'd like to cover?
Joe: I'd like there to be a legacy with the Pinehurst Kids where we put out as many good records as we can, because music lasts forever. Sometimes when we're playing I feel like a real residence with something. I don't know what it is, but it is basically something that makes me want to go on. I'm addicted to that. I want to be as directly connected to that energy as possible. I can feel it really vividly sometimes.
Rob: We get the feeling it's on our side sometimes.
Joe: When we were jamming down in my basement -- and people outside of the band would notice this too -- every know and then we'd stop playing because we could hear a voice that wasn't one of us. It sounds so poltergeist, I know, but we'd be like...Rob and I one night, we were thinking about it. We both wondered what it was. I've seen so much death in my own personal life, with my family members and stuff, maybe there is some type of opening that is occurring with the music where the spiritual element comes in?
Rob: I know your father is hanging out sometimes, rooting for you. And at the same time, kicking you in the ass.
Joe: Yeah, it's very weird. The voices stop at times, like where some weird shit will happen. At one point this beer can just miraculously scooted across the table in front of Rob and I, and we were like, "That's really fucked. Did you see that?"
Rob: Remember what it was? This voice kept coming through our amp, and it sounded like the voice of Satan. It turned out to be some amateurish ham radio operator across the street. He was always like, "Hello!" and stuff and it was coming through the speakers. There was just something so insidious about it, I don't know. It was like the dark Art Bell coming out of Joe's amplifier. We were pretty convinced he could hear what we were saying as well.
Joe: Then when he started to play "Ring of Fire" on his radio and I could hear it, I lost it. I went walking door to door until I could find him, because I knew he had to be close.
Cal: He switched channels for us and everything, though.
Joe: I got in his face. He was the weirdest looking white trash guy. I felt good though, because I found this fucking voice. It wasn't just me losing my mind or something. I guess that's it though. We sound like such cheese heads. We're so new age, talking about bringing out the spiritual elements and everything.
Rob: We want to leave a little mystery, so we won't spill the beans. That's what we are all about.