The Makeshift Conspiracy/The Sarcastic Bitch SPLIT CD
The Makeshift Conspiracy/Jaded From Ninth Grade (Spazm Records)
By: Alex Steininger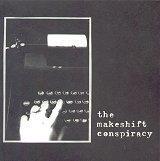 Bringing forth two riot girl acts on one disc, Spazm Records unleashes an explosive seventeen song disc that slides in under thirty-five minutes. The music is loud, and full of dirt, while the lyrics are pure angst.

First up is The Makeshift Conspiracy, a three-piece, all-girl band from California. Opening up with the first nine tracks, they bring forth a garage sound that is equal parts power chords and screams. Very aggressive, and never showing any signs of pop hooks, their music comes off as left over anger that has sustained after a few relationships gone wrong. But as you listen to it more, the angry residue is still left, but there are some signs of life besides the anger. They mix in a few lines here and there that are observations on life that don't have to deal with broken hearts and liars abroad.

Then there is the second of the two bands on this disc, The Sarcastic Bitch, also a three-piece, all-girl band from California. Maintaining the anger and spite that began the music, they also seem to be able to mix in some pop hooks. Not always on the prowl with fists full of loud guitars, sometimes they tone down the music and softly spread their message. But when they do whip out the fuzz and pile-driving guitars, they go all out. Screaming in your ears are very thick chords, almost stiff enough to break through concrete. Still focusing on the dirt that follows many relationships, they do take some time to piss on the bands' they've come across who've 'sold out'.

Both bands have a lot of improvement to make, but they also portray a ton of power that, if harnessed, could prove ferocious. Out of the two, The Makeshift Conspiracy have a better game plan and seem to have a stronger grasp on their music. Tough and hard to ignore, they're able to get your attention by beating down your door. The Sarcastic Bitch has some good moments, but their four-track sounding garage-rock leaves a lot to be desired. I'll give this disc a B-.