Hole
Celebrity Skin (Geffen Records)
By: Paula M. Sherman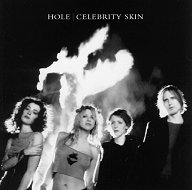 On September 8, 1998, Hole released 12 songs under the album title "Celebrity Skin". An extremely distant trek from their amazing 1994 release "Live Through This", which was recorded in five weeks; "Celebrity Skin" took much longer and still offers us the familiar sounds and overtones that have been calmly, skillfully, and thoughtfully honed. The result is something that I predict will be their best album ever, but I could be wrong. I thought the one prior was the best.

It seems that Love and company wanted to take their time, think these songs out thoroughly, and produce a creation that would document their talent for all times. That they did perfectly in their own way, with help from some friends. "Celebrity Skin" is definitely not something that was thrown together. While their last album gave us the true essence of punk rock at it's most hard edge, this album is refined and graceful and still a potent rocker. I find myself not really able to place the proper label on this music, and I don't want to. I'm frankly tired of labels, and I'd just like to say that this is great music.

The title track, "Celebrity Skin" rips in and surrounds you the aurora of rock that makes you smile. Love's voice lets you know that she's back and ready to roar, but the roar is pleasingly satisfied and not discontent. The remainder of the tunes follow with strength and remarkable dedication to their talent, to the content in their songs, and to the music itself. I was so ready to hear some screaming attempts at the backlash of the history of punk or some sarcastic sentiment from the weary world of fame, done up only the way Love could deliver it. Instead I hear innovative rhythm sections and provoking lyrics, a product of a team effort from the band as a whole.

Love, along with her band mates Eric Erlandson, Melissa Auf Der Maur and Patty Schemel, set out to redefine the California sound. Using California's history as well as their own history, they shifted through the roots of both and formulated a trail to their potential. The music resembles the glory marked by a huge job well done; as opposed to looking for gold to make your dreams come true. It proves that finding the gold inside oneself is more valuable and less fake than seeking the prize to fast riches.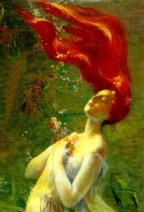 Through the process, the band was influenced by the sounds of Fleetwood Mac. And during times of a needed lift, they called upon Smashing Pumpkins lead singer, Billy Corgan, to assist and lend a helping hand. Erlandson, Love and Corgan are jointly responsible for tracks such as "Hit So Hard", "Celebrity Skin" and "Malibu". Erlandson alone is responsible for "Northern Star" and "Heaven Tonight". "Northern Star" is an acoustical wonderment carried out with magnificent vocals by Love, and one of the finest contributions to this release. The band together contributed to "Awful" and "Use Once & Destroy". Both these songs are stimulating in distinctly different ways. "Awful" is popish in the most useful way, in other words, it's far from boring. I find some pop sounds to be extremely drudging and redundant. On the contrary, "Awful" is bright and elegant with the proper well-executed pop punch. "Use Once & Destroy" is the deepest rocking tune of the tracks. Seasoned with a brilliant bit of techno reminiscent of Pink Floyd, it contains teasing rhythms and powerful percussion sounds that innervate, and flourishes with the feel and richness of Led Zep.
Topped off the with production of this release by Michael Beinhorn, "Celebrity Skin" is an exciting, well-rounded album. I give it an A and I recommend that it be your music purchase of the month.