Haze
Master of the Powerless (Emerald Forest Entertainment)
By: Alex Steininger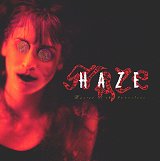 An angry female with a beautiful voice, Haze prefers to express herself in her industrial/hard rock outfit. Slippery, painful, and sometimes seductive, she is able to turn the table on past loves gone wrong and fatal experiences to something positive and therapeutic. From underneath the sun of Santa Monica she reveals dark secrets that will either rip through your stomach or help you cope with your inner anguish.

Haze's first release was a CD-EP titled TOM DOOLEY, which was centered around different remixes of the aforementioned song. One dimensional and not very suiting as a debut, her follow-up full length serves as an appropriate introduction to her music.

With a wide vocal range and that jaded female outlook on life going for her, the opening guitar shrieks of "Chant" set you up for an explosive, dramatic taste of what you'll be experiencing for the next thirty-five minutes.

Thick drum tracks and even thicker guitars ripping through the song, as well as a pulsating bass line that serves as the veins of the song, Haze's wicked voice sends chills up and down your body. The excitement of Halloween and the scariness of an abandoned house on the same night, you get quite a thrill when exploring what is hidden in the unknown.

Then there is the contradictions that stand out and taunt you. "Peach" is a good example of this. When Haze moans, "I'm as sweet as a peach," in her ever-seductive manner, you can't help but fall in love and want to take a big bite out of the 'peach.' But when she utters this phrase again, she tricks you with a soft whisper before screaming out, "AS SWEET AS A PEACH!" This kind of contradiction lures you in before biting your head off.

But as much as it stings, a part of you keeps coming back for more of her sensuous words, hoping that they will somehow find you and comfort you eagerly. But the rough thorns are always present and are liable to show their faces without warning.

Offering up the familiar with a new perspective, "Tracks Of My Tears" stuns you with catchy lines and the user-friendly atmosphere that can only be obtained through covering the popular. A fearful, painful love call to the past lover who fills your voids so easily, Haze's heart-soaked vocals carry the words with so much experience behind them you sometimes feel as if she is the writer of the them. "Although he might be cute, he's just a substitute" and "Take a good look at my face, you know my smile looks out of place" sting like iodine, re-opening every wound that is hiding behind all the other emotions in your body.

But industrial-drenched cries for help aren't all she is capable of, "God (Wish You Were Here)" shows here musical creativity in another light. Soft and very mellow, it calls upon a time where you're just sitting down on a chair, staring at the wall, and wondering where your supposed lover is. As you sit there and the thoughts pour out, you soon come to the realization that they aren't coming to you anytime soon (they're cheating on you with someone else). Reflecting this well, the chorus amps up the juices and jumps right back into the industrial riffs and thundering licks that line the whole album.

Re-vamping the song that was her first album, "Tom Dooley" is yet re-recorded and re-worked for new life on her new album. With so many changes this song has gone through in Haze's mind, it's amazing it still works on disc. Most artists ruin their own work after toying with it two or three times, as the first cut is usually the best, but Haze's vision and different camera angles she places on this song keep getting better with age. Rock and pop-edged, the underlined theme of industrial is still prevalent enough to keep the song loud and tangled. But a few quirky riffs ring out throughout the song to help hint at many other influences that helped bridge Haze's style.

Ten songs in all, Haze proves that you can't go wrong when you're honest with your listeners and you give them a glimpse inside of your personal life. After all, if you're going to be making something as personal as music, you better fill it with yourself or not even try at all. I'll give this disc a B+.