Inner Circle
Speak My Language (Soundbwoy Entertainment/Republic/Universal Records)
By: Alex Steininger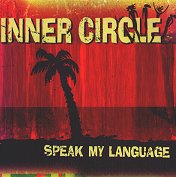 You've heard their hit song "Bad Boys," made famous by the TV show "Cops," but did you ever try to find out who sung the song that was on everyone's tongue from age 3 to 50? The catchy anthem-style that made "Bad Boys" such a national favorite is once again present on Inner Circle's latest CD, SPEAK MY LANGUAGE. Blending reggae, dance, and pop, they deliver infectious love songs that will have you singing along, just as the "Cops" theme did.

Like anyone else, when I first popped this CD in I was expecting an infectious pop song that left me at the edge of my seat, craving more and more. Was I surprised when "Da Bomb" turned out to be that type of song. Even as I sit here and write this, I can't help but start humming and singing along. Every inch of the song is infectious. From the solid vocal job, hinting at bits of reggae here and there, to the steady beat of the rhythm section, I became hooked instantly.

Traditional reggae fans may not appreciate their blend of pop and dance, heck, true reggae fans might even hate this, but just because it's essentially not that much reggae, it's still so poppy that you can't put it down.

Now the big challenge was going beyond the opening track. Are they a two-hit wonder, magically serving up another addictive number? Or do they have true talent and are able to keep the hits coming. Sure enough, "Tell Me" settled it for me right there. They're talented, and boy do they ever have a knack for creating songs you can dance and move along to with that special someone. With themes of love popping up in every number, they definitely want you to feel the love, and with hooks flying every which way, they do just that.

I appreciated every track on this disc. Not everyone hit me from the get go, taking two to three listens before I got into them, but after listening to this disc enough I can safely say that every number is capable of being your favorite.

Other stand out tracks include the heavy reggae influenced number "We A Rockers," the dance number "I Like What I See," and another reggae cut by the name of "Party's Just Begun." They even close off the disc with a dancehall remix of "Da Bomb," a great treat for people like me who were just blown away by the track at the beginning of this disc. Although it is not as infectious, it shows their reggae/dancehall roots a lot better, giving people a chance to see deeper into their musical bag than just dance/pop rhythms. I'll give this disc an A-.