No Knife
...Hit Man Dreams... (Time Bomb Recordings)
By: Alex Steininger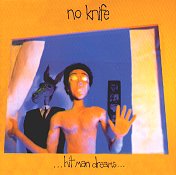 Hailing from San Diego, California, No Knife blends an emo-rock foundation with some sharp pop hooks to drive their message even further into your skull. Clever, tight, and powerful, each song will do a one-two combo on you until you cave in and become a fan.

'Your Albatross" starts off like a typical rock song, the band going at it, and soon the vocals come in and change the tempo of the song. The band still keeps the rock influences present, but sliding into a more emo atmosphere, the song becomes more about re-enforcing the lyrics than just about rocking hard. Able to pull off some great hooks, along with a very tight rhythm section, the abstract lyrics give the listener a chance to interpret the song in many different ways. One glimpse at the lyrics tells the story of a man who keeps forgetting his past in hopes of the future, while another look at the lyrics gives off the impression of a man who speaks to another man and tries to figure out the meaning of life. The beauty of their craft is the fact that so many more interpretations could be had from the song. The key to any good lyricist's styles, they've got it down solid. Moving along to the title track, "Hit Man Dreams," the band starts off with a bass line that will make you shake, before moving into some misty-eyed emo. The song is soft and fragile, while also carrying a pounding rock beat that will pop up now and then, causing both inner and outer tension amongst the melody, words, and thoughts the song reflects. As they sit there and get you into a deep-thinking pattern, the song will swim around in your head while you intake both the notes and the words. Grasping onto your emotions, they'll make you feel every lick of the drum, crash of the cymbals, and chords the guitar churns out. If that wasn't enough, the strategically placed hooks will have you in a choke hold with no where to go. "Testing The Model" shows the band at their best, with both a pounding rhythm section and slicing hooks that drill their way into your head into you're eagerly indulging yourself in them. The guitar is the main culprit, sweetening the deal with a chord combination that will run around in your head until you can't take it anymore. With the vocals shooting around with the guitar as well, they double team you and don't even give you a chance. "Roped In - Lock On" brings forth the band's longest number, over six minutes and forty seconds. Even the strongest of bands have trouble pulling off numbers this lengthy, and although it seems No Knife just may be able to do it, after four minutes the towel should have been thrown in. Although they manage to keep the song changing and entertaining, six and a half plus minutes is just too long for anyone to concentrate on any one song. Closing out with "Sweep Away My Shadow," the band decides to rock out and erase any doubts you may have about them not being able to stare you right in the face and get your heart pounding intensely. With the quick hits of the drums, thick guitars, and relentless bass all going at it, and the vocals beefing up their words a bit to an almost shout-like singing style, they forcefully end this CD with something to remember.

No Knife defines everything emo-rock is about...truth and emotions. Putting their hearts on the line, they give their all until it hurts. With a tight rhythm section that is able to pound out rock, as well as slow things down a bit and get soft, they are able to put forth a true tear-jerker one minute, and then follow it through with a regret-filled rock tune. I'll give this disc an A-.