Lug Nut and the Spare Tires
Back To The Past Lane/Movin' On (Chey-Town Records)
By: Alex Steininger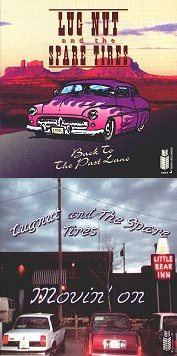 Bringing the golden sounds of 50's and 60's pop back into the 90's, Lugnut and the Spare Tires do it in style, bringing many other influences into the pot as well. With a strong jazz influence, and some rock-a-billy tossed in, their brand of pop is both original and nostalgic, in a good way. With two releases to their name, BACK TO THE PAST LANE and MOVIN' ON, these guys have crafted their skills quite well over the years. Each disc brings in some different musicians, which means more ideas, and the outcome is always something new and refreshing.

Writing primarily original tracks, they do occasionally mix in some covers to the sole purpose of jamming out classics they love, and ones they think you'll love as well. Take their cover of "Brown Eyed Girl," for instance. The number is a sweet pop reminiscent of some of the best days of pop music, when fun and enjoyment were the driving motive, back in the 60's. So clean and innocent, you can't help but fall in love.

Of course, they do have their weak moments will covering classic hits. They destroy Richie Valens' "Donna." The recording is sub par, and the vocals are very hard to hear. If anything, they should have mastered it to make sure the levels were consistent with the rest of the tracks on this disc, which they are not. I could see myself enjoying this track with a better recording, but putting this version of the song on this disc was nothing short of an insult towards the late and great Richie Valens.

But they always do redeem themselves, especially with their cover of "The Lion Sleeps Tonight." After hearing this, I forgot all about their cover of "Donna," and just let my problems flow away while this track was playing. I'll let you in on a little secret...I even sang along with them on this one.

But there is a lot more to covers to this band. With ten originals, they earn their credentials pretty easy. Their songs jump from heavily pop to heavily jazz glazed. Underneath everything, however, there is always a bed of pop.

Both discs are quite good, however BACK TO THE PAST LANE had to be my favorite. Opening with a jazz-a-billy track will stick with you for quite some time, "What About You" was my first introduction to this clever re-distribution of styles from the old.

With only ten tracks, their debut had a lot more songs that hit me and stuck with me. They stood out in my mind, and even when I wasn't listening to the disc, my mind would revert back and start me humming along with the songs I had heard hours ago, sometimes days ago.

But with treasures of its own, MOVIN' ON got a lot more CD time, just due to the fact the re-did three songs that I grew up on, and have always loved. Serve up a product that brings up emotions, and you'll never fail.

There is also plenty of original tracks that are quite good, "I Like It A Lot" and "I Hear You Knockin'" come to mind, on their latest release. However, as far as originals are concerned, their first disc contained a lot more rawness, which worked in the past, and worked for these guys.

After thinking it over, both discs faired pretty well together, so I'll give each one a B+. If you can't stand music, yet want something new, you've now found the band that will satisfy your sweet tooth.