Lenny Kravitz
5 (Virgin Records America)
By: Sylvia White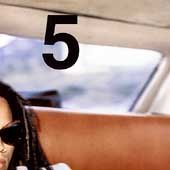 Lenny is back and in beautiful form. I didn't catch his last album "Circus" (1995) which most folks seemed to crucify and trash in one way or another but I'd have to say that this album, "5" surely ranks up their with my favorite by him thus far, "Are You Gonna Go My Way" (AYGGMW). From the instrumentation to lyrics, not to mention his own personal vocals, Lenny Kravitz still remains one of my favorite musicians.

On "5" Lenny attempts to meld into this collection various forms of musical influence. There are modest hints of R&B and definitely his Rock roots that he clings to vehemently. Initially I was not sure if I, as an R&B reviewer should have any business adding this into the category of Rhythm and Blues, though it does not readily fit into any one category. Still though I am taking this one into my own personal house blends.

The 13 track album is maligned with some really smooth and groovy material. Lenny with his retro inspired sound and look, reaches back on a few tracks to give us that certain bell bottom wearing, free love flow. On tracks like "Take Time, "SuperSoulFighter" and "Straight Cold Player" he gives off a sure flower power sign with lyrics and groove technic.

The funk is evident here on all tracks. On "Live" he reaches back to that "AYGGMW" feel and really rocks! There is good instrumentation and cool vocal delivery here. "SuperSoulFighter" is reminiscent of The Artist and his flair on guitar with his funk and rock mixtures. With good electronic effects. Tracks like "I Belong To You", "Thinking Of You" and Little Girl's Eyes" we hear Lenny get more personal with his material and wording. "Thinking Of You" being his sweet and honest tribute to his late mother (Roxie Roker) and "Little Girl's Eyes" a tribute to his daughter Zoe who he and actress Lisa Bonet conceived together during their short marriage. All tracks mentioned give us a purer view into Lenny's heart and mind. They are all favorites in my book. The lead track off this album "If You Can't Say No" not only has a cool video but also a totally mellow groove that you can sink into. As does "Can We Find A Reason?", both songs are ones that are easy to listen to and replay.

The album as a whole gets a rounded out 5 (no pun intended). From instrumentation to influences this album offers a lot to the listener. There is depth, patience and true funk rock coursing through the veins of this work. With more albums like this and his prior "Are You Gonna Go My Way", Lenny Kravitz makes such a strong statement to the world why and how he is becoming a true diverse and cross blended musical talent of this century. Rock On Lenny!