Shadow Project
From The Heart (Hollows Hill Sound Recordings)
By: Alex Steininger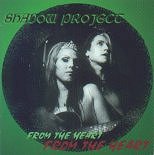 Shadow Project is Eva O and Rozz Williams, who have both spent many years in different bands. Both were pivotal in the early 80's death metal scene, fronting their own bands that helped shape the scene. Eva O is known for being the driving force behind Super Heroines, while Rozz Williams is infamous for forming Christian Death. Forming Shadow Project in 1990, after marrying, they eventually divorced but the project still lived on. Recording and releasing both studio and live material, FROM THE HEART is their first album in four years, and due to Rozz Williams' suicide, their last album.

Whenever a metal or heavy artist tries to go soft, it almost never works out. This is the case with this album. Rozz keeps his goth-oriented voice throughout the disc, keeping the music in a goth-soft-pop state, which is not a pretty state, while Eva O casts a dark shadow over the music with her chilling, ghostly voice. Even the music relies too much on their past gothic-metal experiences, as such instruments as the organ, piano, and the sound of wind help give the music a haunted house vibe, rather than an enchanting sound. While I was listening to this disc, I couldn't help but think what a great disc this would make for any horror film or Halloween oriented flick. As for a disc to put in for entertainment, definitely not.

Four duets, and four separate vocal tracks from both Rozz and Eva, no matter what format they are in the background music still keeps the Halloween 'feeling' ever present. Maybe the soundtrack for a non-Disney BEAUTY AND THE BEAST, but as a disc on its own it just doesn't fly. I'll give it a D.