Altar
Provoked (Displeased Records)
By: Jeb Branin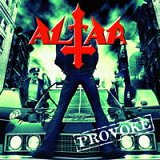 This album isn't so much a step away from death metal for ALTAR as it is an attempt to incorporate more thrash into their sound. Imagine taking the classic German thrash sound of bands like KREATOR and DESTRUCTION and merging it with early nineties death and you'll get the picture. It is a sound that works well, although it may occupy too much of a middle ground for fans of pure death or pure thrash. ALTAR have also evolved their image in so far as that instead of emphasising an angry anti-christian stance like they did on "Youth Against Christ", ALTAR are just plain angry this time.

The targets of their venom are not limited. The cover shows a guy peeing on an occupied cop car and that is only the beginning of the obnoxiousness and patent fury of the band. The icing on the cake is their cover of ACCEPT's "Fast as a Shark".