SHOW REVIEW: Jerry Cantrell
July 15th -- E-Centre (Camden, New Jersey)
By: Paula M. Sherman



Camden is a nasty place! I'm sorry to say that, but it's a fact. But I grew up in Philly, so I was used to it. The E-Centre in Camden is a beautiful place. The venue is clean and safe, but I urge those of you who travel there for concert to go in pairs or more. And also leave yourself plenty of time to get to a concert on time, because the traffic right before a big concert is intense! There is plenty of parking, but it's best to get near the venue. Walking the streets late at night is not a good thing.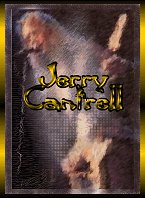 Alright, safety speech complete. I went to the Metallica concert on July 15th with only one thing in mind, to see Jerry Cantrell. And I was lucky enough to fight the traffic in order to accomplish my task, and it was well worth the effort.
Days Of The New was the first band to hit the stage. They were great, at least what I saw of them. This is a band that is just as good on stage as they are in the studio. And they kept me happily entertained till Cantrell and his band hit the stage. And I'm warning you all who are reading this, I'm a big Alice In Chains fan. I dig Jerry Cantrell as much as I dig Mike McCready from Pearl Jam. My descriptiveness is out of pure enthusiasm, because Cantrell is a classic on-stage performer, and a very talented musician. So I try, in this review, to excite the fans who love the music as well as the man.
Cantrell is on the road with his new music, and his solo album Boggy Depot, which I reviewed in April/May of this year. He picked his band with call-outs, and obtained what he describes, "Lollapaluza 93 Revisited". He wrote all the songs for Boggy Depot and also plays guitar, piano (clavinet, organ, and steel drums) and sings as well. His call-outs got him the following studio band: Fishbone bassist Norword Fisher (on "Settling Down" and "Breaks My Back"); Pantera bassist Rex Brown (on "Dickeye," "My Song," "Keep The Light On," "Satisfy," and "Hurt A Long Time"); Primus bassist Les Claypool (on "Between" and "Cold Piece") and AIC bassist Mike Inez (on "Cut You In," "Jesus Hands," and "Devil By His Side"). Fishbone's Angelo Moore plays horns on "Cut You In" and "Cold Piece" while AIC drummer Sean Kinney contributes to several tracks.
But his stage band is smaller. This is his first solo tour, and Cantrell had to put together a touring band. It consists of the following artists: Chris DeGarmo, formerly of Queensryche, on guitar; Nick Rhinehart, from the Seattle-based Old Lady Litterbug, on bass; Chris Dowd, formerly of Fishbone, on keyboards; and Jerry's Alice In Chains band-mate Sean Kinney on drums.
Note: Band information found at www.jerrycantrell.com, and re-enforced by Cantrell's interview on MTV's 120 minutes which aired July 19th.
So Cantrell comes out on stage! He was wearing a white shirt and black jeans. The reason I bring this up is because Jerry is noted for his cool outfits. Sometimes, he comes out in leather. But not this night. He had three guitars. I'm sorry I don't know what they were, except for the G&L Rampage, WHICH HE USED!!!! It's not a guitar that's manufactured anymore, and Cantrell adorned it with some pleasing images. So that set of strings will always go down in rock history as the coolest geetar every played in my heart. He started out with a brown set of strings, and immediately flipped his long golden hair and make some tire tracks with "Devil By His Side". IT ROCKED! His whole set rocked, but every song was special! After the first song he threw his pick out, which he'd do after every song, and sometimes in the middle and then he'd pick up another one off the stage floor. They must have like a gillion picks, because it looked like he sprayed the pit with them after the last song.
Then he asked the crowd, "How ya doing out there?" It was a Metallica crowd and they weren't into this long-hair blonde dude at first. They liked Days of the New, but Cantrell had a hard time getting them started from where I was sitting. In my area, there were NO Alice In Chains fans. Everyone was like, "Whose this guy?" Cantrell changes guitars to a black one, and goes into "No Excuses". I sang along to every song! LOUDLY!!! All through "No Excuses", Cantrell was in rare form! He has this classic way of lowering his body, bending his knees and he just looks like he's in a trance! He's the ultimate rocker!
After that song, he said something like, "Come on! I can't hear you! The louder you are, the louder we are!" God he has such a strong voice! Which I'd like to add, is staying strong through his tour. Cantrell expressed concern about his voice, since he is not used to being in front of a microphone for every song. Well, he was great! Then he went into "My Song". Another awesome tune, which is his second single off Boggy Depot; and has a quite provocative video to go along with it. The way he played this song, it was just incredible! After that song, he said, "You guys still out there or what?" Then he played a great version of "What The Hell Have I?" (from the "Last Action Hero" soundtrack) and a beach ball started being bounced in the mosh pit.
After that song, Cantrell stood there in front of the pit and stared down and said something like, "You people must be smoking some bad ass pot down here!" Hey, I didn't say it, HE DID! I'm just quoting. He either meant that the pit was asleep or he was hinting around that he wanted some. (that's a joke!) Someone throws Cantrell a hat after he said that, and he picks it up and puts it on and mumbles something and starts playing my ALL TIME FAVORITE, "Between"! This is a very sweet tune off of Boggy Depot. The song "Between" put the pit to sleep, but NOT ME! I swear he did it deliberately. Cantrell looked like he was getting pissed. He just sang that song like he didn't give a shit whether anyone rocked or not. He sang it with a lot of soul, like he was playing it just for himself.
Next, he said something like, "Ok, let's have a sing along! Help me sing!" He started playing "Got Me Wrong". What a great sing along song! And this tune always gets fans pumped up, whether they know of Alice In Chains or not. Cantrell's man to his left, Chris Dowd, is an amazing singer and really did major justice to the vocals in this song. And he played a kick-ass harmonica and trombone, too! Cantrell said, "I can't hear you!" And then the crowd roars! That song did it for the crowd, because they picked up in volume after that. He said something like, "The grass people back there are getting rowdy!" They all scream! And then...then
THE G&L RAMPAGE COMES OUT!!!!!
And he played "Them Bones" with it! Cantrell gave us the most incredible kick-ass solo like you wouldn't believe! Oh man! I wanted to lunge and soar into the pit on that one! Then he kicked right into "Keep The Light On"! I was praying he'd play that one. It's such a rockin' tune! And when he gets to the slower parts of that song, he's face got so soft and he purrs out the lyrics. But towards the end, it got nutso! He wipes his face in the middle of it, and then rips out the end, and we're all like.....WOAH!!!!!!!!! There's no other way to describe it! People were impressed!
He changed the strings again and asked the crowd again, "How ya doing out there now?" The crowd roars. Then a horn came flying out from the side of the stage and Dowd caught it perfectly. I laughed! Cantrell announces this next song....CUT YOU IN! This is his first single off of his solo album, and is accompanied by a rather funny video. This song played live is OUTRAGEOUS! It was done perfectly....PERFECTLY! There was a big backdrop behind the stage, and there was a laser light fight going on behind Cantrell during "Cut You In"...it was hilarious!!! He didn't see it.
After that song, Cantrell stands there and just smiles. For those of you who are fascinated by this man's smile, it beams on stage when he satisfies an audience! Then he said something like, "I can't hear you in the front BUT I CAN HEAR THE MOTHER-FUCKERS IN THE BACK!" And then the last song, "Dark Side of the Moon". It was incredible and so well performed! Cantrell and his band did that song better than Pink Floyd! And it got to the crowd, BIGTIME! BICS WERE LIT UP EVERYWHERE!!!! Either in the middle of the song or when it was all over he said, "What do ya think about that!?!?!" The crowd roars again! And then the band leaves the stage except for Cantrell, who stands there some more. He looked so damn young, like a little boy. He picked up some stuff, what I think were picks, and he walked across the entire length of the stage and sprinkled them and threw them out to the pit, from one end to the other. Then he waved with a big smile and walked off.
At that point, I was ready to go home! But I went and got my Cantrell concert shirts. I got two. One with that picture of Cantrell with the fishhooks in his face and the back is the best, it sez, "FUCK EM ALL" across the shoulders and then lists the concert dates. The other one is the Boggy Depot shirt and I love it, because it's a fishing shirt. I love fishing!!! It reads, "Hunting and Fishing License Sold Here" at the bottom and "Live Bait" at the top, and on the back it lists the songs on Boggy Depot.
Metallica was good, but it was the testosterone crowd. Lots of babes flashing their goods, and lots of people trying to see it. It was comical!!! But the best was this drunk guy getting throw out in front of us for not having a ticket, right before Metallica hit the stage. I like the band, but I've seen them before. They were as powerful as ever. But I left after the third song, because the crowd was drunk, and I wasn't. I had to drive!
I would like to express my desire to see Jerry Cantrell and his band tour on their own. Even though Cantrell has been friends with the guys of Metallica for years, I believe this was just a "warm-up" for him. I think he wanted to see if he could do it. Well, he can! There are loads of fans would be give their eye-teeth to go to a Cantrell concert. And yes, and Alice In Chains tour would be a thing to behold as well in the future. But right now, Cantrell is spreading his wings. He's got huge wings, and he and his band deserve the limelight and the praise of a solo tour.
This particular concert that I attended impressed me thoroughly. Cantrell sounds just as good on stage as he does in the studio. That's very hard for a band to accomplish, and some fall very short of this. Not Cantrell! He made it look like it was all as easy as breathing.
I urge those who have a chance to go see Cantrell on the remainder of his tour, do it! He won't disappoint you at all.