DEF SQUAD
El Nino (Def Jam Records)
By:

[email protected]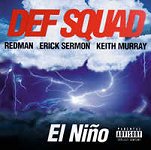 Let me lay down the facts for you: when you put three of the best and most creative MC's in the game on one collective album, it will rip. Especially when they are Erick Sermon, Redman, and Keith Murray. Each is a master of a genre that they seems to have created, or perhaps just brought into the light and mainstream. Erick has been Makin Dollars with Parish Smith since the early eighties with what was one of the most influential groups in all of rap: EPMD. Abruptly, EPMD broke up and left Erick to move on to better things. He hooked up with a young inexperienced mic technician named Keith Murray and another favored protegee, Redman and they collectively formed what they dubbed the "DEF SQUAD". They each helped add lyrical fuel to the fire and produce tracks on their own respective solo ventures.

Erick Sermon has a lisp and it makes him sound like a very modest and normal guy and that just adds to the appeal of his already hilarious mediphorical style of rap. Keith Murray has a variety of styles, but the one he prefers is the one where he screams and spits all over the mic, and makes up words to help his raps flow. Redman, the Funk Doc in The Flesh also prefers to simply dick around and totally wrecks the microphone with his odd vocal styles, yelps, screams and patented "ha--ha" loops over his tracks.

This album has few weak points. It is largely produced by E-Double, whose funky beats with keep any licensed funkadelic nodding their heads. Their hilarious monologues between songs with radio station WDEF is bound to keep you in stitches, along with their rhymes, which keep you listening over and over again for new twists. They also invite some unexpected guests, including the Short Dogg, on the chill weed-smoking anthem "Ride Wit Us" as well as the Biz Markie on "Rhymin Wit Biz". Suddenly, they stop the funk and set off something like "Ya'll Niggas Ain't Ready" which is clearly Bone-inspired, or the old school flavor of "The Game" where each MC fights for their time on the mic. As if that wasn't enough, they are kind enough to include their remake of "Rappers' Delite" retitled "Def Squad Delite", which has the same great loop and the three strongest, most consinstently pleasing MC's in hip-hop.

If you are smart, you will go buy this record right now!