Notchoma
Skamish (Notcho Records)
By: Alex Steininger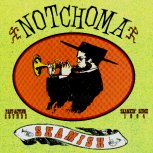 Hailing from Harrisburg, Pennsylvania, NotchoMa is a seven-piece ska band. Blending in various ska styles, including traditional, swing, jazz, and third-wave, they are able to call on many different influences without sounding like a different band. What's more, they've even called upon some friends from the Toasters and The Allstonians to help them out on this disc.

With a fairly new band like Notchoma, "Rude Boy" starts off this disc with an infectious introductory to the band. The upbeat, although powerful, takes a back seat to the drums, vocals, and the horns, which is nice to see in a ska band. Not over-advertising the upbeat, they concentrate on building a strong team, rather than building the foundation up and then slacking off with the rest of the band. As for the vocals, the female lead helps give the band a warm feeling, very inviting and friendly. The lyrics are also nice, going hand-in-hand with the music. Although, I'll admit one line in particular does confuse me, "It's really cool to be a rude boy, this is who I am." Ringing throughout the chorus, I couldn't find out if they were taking a stab at the 'rude boy' wanna be's, or genuinely telling the story of a misunderstood 'rude boy.' After contemplating it a few times, I decided that the song was just plain fun and it didn't matter. "Writing On The Wall" lets you see another side of this band. Where as "Rude Boy" was on the verge of being a pop-ska-trad number, this song depends heavily on Caribbean dance influences. You know, the type you'd hear in a movie while people are having a great time at the beach, on some tropical island. Simply put, it has a very tropical island feel. The horns are tight, working with the percussion to help make the song as strong as it is. Backed with smooth vocals that can carry the melody quite well, this song will make you dance heavily while singing along with it. Once again, "I Need Your Love" showcases the band in a whole new light. Slow and relaxing, it calls upon it's traditional past and reggae influences, all the while updating everything with a bit of a pop essence. Although the song does call for some dancing, the smoky horns and laid back atmosphere the song projects calls for a slower dance, or swaying. Gently move to the song, don't move too hard or fast, and let the song soothe you over. A love song, as you could tell by the title, it truly has a lot of love in it and isn't just another love number that comes across as a cheesy song with no emotions. "Latin Fantasy" just doesn't go over well. The upbeat seems to be hiding, as it is awfully low in the mix. Although I agree the guitar shouldn't be overpowering, it should have some say in everything. Especially in this number, as it seems to be digging for air, but instead doesn't have enough to breathe with. Ending with some special guests, "Walk On The Water" invites 'Rocksteady' Freddie and Jack Ruby Jr. from the Toasters on the saxophone and mic. A great number to close out this disc.

With a name like "NotchoMa," which has grown on me, I must admit before I put this disc in I was very hesitant. But after listening to it for a few times, it also grew on me. Some songs are slow and relaxing, while other songs whip out some jazz, or other influences, and just get you dancing. A great mix as a whole. I'll give this album an B+.