Mr. Review
One Way Ticket To Skaville (The Essential Mr. Review) (Moon Ska Records)
By: Alex Steininger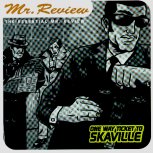 Amsterdam has always been known as a place of true freedom. People can do what they want, smoke what they want, and virtually buy anything (including sex). But other than the obvious, Amsterdam has also housed a great ska band for the past fifteen years by the name of Mr. Review. After recording and releasing numerous things, the U.S.'s own Moon Ska decided to bring you an essential compilation of great Mr. Review tracks and unleash a band they love to the U.S. public. The result is eighteen tracks of great 2-Tone ska.

"The Street Where I'm Living" kicks off the CD, and within ten seconds you get a great feeling of why Moon Ska is so pleased to bring us a compilation spanning Mr. Review's career. Within the time it takes to blink you're already dancing along to the music. The horns are bright and powerful, helping to carry out the hooks, as well as ease the transition from verse to chorus. Let me tell you, they do a great job of it as well. The vocals are clean and clear, as well as melodic, helping to take the music where it couldn't go if it was just an instrumental. The drums are meaty while still staying fairly soft, which is very hard to do. The bass thumps all through the music, giving the song even more of a punch. And lets not forget the guitar. Its steady upbeat travels through the song at a fairly fast pace, giving the song a lot of dancing potential. I presume this number is the single, or theme of the whole album, as the lyrics for this song are the only ones in the book. And why not, it's a great song and a great way to start off this album. "Virgin Ska" shows the band in a different light, only the music carrying them this time. Without the vocals a little bit of the fun is taken away from them, as you're not able to sing along with the music, but other than that they keep the spirit level high and the energy intense. Even with a slower number like this, you still have plenty of chances to dance, or just slowly move to the music. Of course, they do pick up the beat a little bit during the end, giving you even more of a chance to dance with the music, so even without the vocals they still do their job mighty well. "Everyday Another Day" isn't a bad number, it just sounds like pretty standard 2-tone music. Heavily English accented vocals flooded over by thick horns and a mid-fast paced upbeat driving all the way through the song give it a generic feel, and the lack of their usually common hooks help push it down there and make it one of my least favorite numbers on this disc. "Rainy Day," on the other hand, is one of my favorite tracks on the album. It maintains a fairly slow pace full of delicious, lush melodies on hand while still keeping the upbeat noticeable enough to give you a little step in your dance. But after hearing fifteen studio cuts, it's always great to hear some live cuts when you're dealing with a "best of" type album. "More & More & Faster (live)" helps give you a little more insight to the band and their music, insight that studio tracks just can't give. After hearing this slick, tight number from the band you can't help but want to see them live. Two more live tracks, "This Girl Is Money (live)" and "Keep The Fire Burning (live)" also appear on this album before they close everything out with "Summertime."

Labeling an album 'essential' is a very bold statement. There are a few records I could label as essential, but many might not agree. But with a record like this, considering some of the tracks are almost ten years old, it's amazing how the music is able to stand up over time and still be able to compete with many newcomers in the ska world. Once you listen to this album you might not agree it's 'essential,' but you will agree it's darn good. I'll give this CD an A-.