VARIOUS ARTISTS:
Solar -- A Sampler (Gray Dot Records)
By: Alex Steininger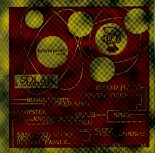 Gray Dot Records is known for their work in blending religion and music, bringing you the latest in the Christian music world. From pop to rock, with some ska-punk mixed in, their label spans a lot of ground. On their latest sampler they bring you sixteen bands, for a total of twenty-two songs.

A lot of these bands stick within the pop-rock genre, keeping things soft and fairly slow, yet with a band like Squad Five-O, things get shaken up a bit. Their brand of ska-punk really puts a dent in the rest of the compilation. Harsh and fast, it also has a danceable edge to it. Easily the stand out band on this disc, they bring you out of a sleep and quickly wake you back up. That's not to say the other bands are sleepers. There are a few bands that have songs that sound very similar, and there are a few other great bands. But, on the average, the rest of the bands on this compilation are very mediocre. Band after band, they blend together, because they are all relatively soft. But another band that doesn't blend together, and sticks out nicely, is ONE:21. With their brand of punk rock, they put energy back into this compilation. They even tackle the topic of selling out on "Been Selling Out."

If you're into the Gray Dot catalog, or are interested in Gray Dot and what they represent, then you will probably find interest in this compilation. If you're looking for some energy music, or a compilation with great band after great band, this isn't the compilation for you. I'll give this disc a C-.