The Tories
Wonderful Life (N2K Encoded Music)
By: Alex Steininger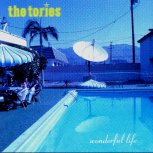 Los Angeles can be a city of intrigue, mystery, or deception. It's so over-crowded, and has a reputation for being dirty and smoggy, yet this quartet is able to pull off pop music with a positive vibe. Never dwelling in self-hatred or angst, whenever they feel down they always pull themselves back up, wipe off the dirt, and go right back at it. That's exactly how their debut disc is, happy pop hooks with a attitude that will make you smile.

"Flying Solo" starts off the disc with just vocals shouting "Flying solo left me feeling so low." Immediately after that the instruments dive in and the song quickly takes shape. Full of hooks, I mean FULL of hooks, these guys unleash one after another. This song is very catchy, and a great way to start off the disc. The vocals are sweet, sincere, and honest. Keeping everything understandable, they turn a love gone bad into a happy experience. Even though the lyrics paint the picture of wanting the relationship back, the music hints at a new beginning with a bright new sun. Keeping up with their ability to write catchy pop tunes, "Gladys Kravitz" serves up another addictive, sing-along number that is full of smiles and fun. One thing that isn't true with these guys, but can be said about many pop bands today, the lyrics are really well written. On "Gladys Kravitz" such lines as "The waiter just smiles cause she thinks she's ordering Italian" and "Wished you had done all the things that she said you did, Gladys Kravitz" ring through the song with deep meaning, and different interpretation possibilities. It just goes to show that some bands put as much time into their lyrics as they do their music, which is a really nice thing to see. The title track shows the band in a softer atmosphere, but they are still able to keep the hooks plentiful and the listener happy. After just one listen the lyrics will swarm around your head and get you singing along with them. Especially the chorus, which I found to be very addicting. I couldn't help but sing along with it, even during the first time I was hearing it (since the lyrics are in the book...). Offering up a home recording, "Spaceships In The Sky" was recorded entirely at The Tories home. Showing the humorous side of the band, this song tackles the topics of aliens, and whether or not they exist. Including examples from tabloids, major media stories, and pokes at a government conspiracy, this song may offend some of the believers out there, but once they hear it they'll forget their gripe and just sing along. Ending with "Follow You," they close out with an acoustic number. A bit more relaxing, they pull off the acoustics just fine.

Pop is still alive, good pop at that. These guys are some of the best pop I've heard from a non-independent label in a long time. Usually an 'underground' thing, The Tories prove that some record executives out there know what good pop is all about. I'll give this disc an A.