Samiam
You Are Freaking Me Out (Ignition Records)
By: Alex Steininger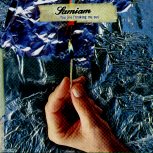 Hailing from the Bay Area, this five-piece band plays power pop, but with a punk sensibility. Sometimes full of hooks, sometimes very melodic, they always leave room to through in some punk aggression.

If lack of energy was ever a problem in a rock band, Samoa definitely avoids that stereotype right from the opening chords of "Full On." Not wasting any time with weak openings, or suspense builders, they jumps straight into the full band affect, rocking out. Then the vocals enter in, with the guitar building a little suspense, and when the vocals jump into a scream/sing style, the band once again jumps back into their energy filled rock-punk style. Jumping back to the guitar and vocal arrangement, the pop is mixed into the song. "Factory" is a good number, full of hooks and their brand of power rock, but the problem here is the vocals all the way through are mainly sang while screaming. The song does get soft in a few spots, thus giving off some better vocals, but they soon jump back in the charged melodies and lose the decent vocals. They really ruined the song. "If You Say So" is one of the stand out tracks on this album. Over a thick bass sliding through the song, softly-pounding percussion, and medium powered guitars, the vocals come in soft and powerful. Almost containing a moan-like feel to them, they really hit the listener with a lot of impact. Each word is felt like a big blow to the head, rattling around your mind for a bit. Even when the vocals try to sing, and stretch the words out a bit, the song still maintains a very emotional pull. But, for once, it is the verse that makes this song as great as it is. "My Convenience" shows the band in perfect form...mixing their high-charged energy with a pop underlining, yet they still stay powerful and never miss a beat. Very intense, the hooks just seem to creep up on you and then there they are. This one is sure to get you singing along, if not bouncing off walls. "Charity" shows the band at their slowest. They still go full blast, but they also start off very slow and end slow. The way they do it, it doesn't mix well. First you're hearing a very energetic band trying to be soft, which doesn't work, and then it seems to pick up during the chorus, but they jump right back to the slow stuff that failed them just a few seconds earlier. "Nothing New" starts out soft, but they do a nice conversion to their more melodic, action packed selves. Full of hooks and an edge, this is the type of stuff you'll have come to expect after listening to this disc. Ending with "Cry Baby Cry," they end with a slow number that just doesn't work. Once again, they build themselves up with some powerful stuff, and then they serve up this slow stuff that seems so out of place. Much like metal bands trying to do ballads, this just doesn't work.

When I say power-pop, I mean it. And to gain that effect they mix in a lot of the members punk past. Forget the slow stuff and enjoy the stuff that rocks, then you'll be happy. I'll give this disc a B.