22 Jacks
Overserved (Side 1/Dummy Recordings)
By: Alex Steininger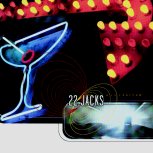 Mixing the power of punk with a lot of power-pop, 22 Jacks form their catchy brand of pop-punk. After releasing their debut record, UNCLE BOB, in the September of 1996, they hit the road and extensively toured. Within that time they recorded some new tunes, captured some live recordings, and did a few covers. These recordings became OVERSERVED, their latest offering.

Kicking off with an original studio track, "Sky" is a great introduction for this album. Hard hitting drums with lots of cymbals, powerful bass, and vicious guitars easily pump the energy level through the roof. The vocals mix with the music perfectly, adding both melody and a bit more of a rough touch to everything. "Passport," another original studio track, displays a lot of their power-pop tendencies. The guitars are always heavy, the bass thick and juicy, and the drums hard hitting, but they still find time to slip hooks into the mix and drag you into the song. The lyrics are written nicely into the hooks, making them easily understood and even easier to sing along with. Actually, the music calls to you and makes you sing along with it. Always keeping the punk present, the song has a lot of bite! Covering their friends Clowns For Progress song "3 A.M.," which is off of their latest release PROGRESS, this live track offers a taste of the band in their natural state. Just as powerful as the CFP original, and just as addictive, I can't figure out which one I enjoy better. "3 A.M." was my favorite track off of Clowns For Progress' latest album, and it has to be one of my favorites on this one as well. I guess a great song will always be a great song as long as a good band is doing it. It starts off with heavy guitars slashing through the song, powerful bass, and intense drums, but when the vocals enter in the song takes on a whole new, melodic pace. From there the song continues down a very melodic road, serving up hooks after hook. "Message In A Bottle" is not only a live track, but it features guitar player Steve Soto on main vocals. Fast and furious, it rips through punk chords as it sends the listener into a frenzy. Jump or bounce off things, because this song has so much energy you'll need to release some while listening to it. But fans of their pop hooks shouldn't worry, because when the chorus hits they'll dive right back into the pop hooks and catchy melodies. "I'll Be With You Tonight" not only has the band backing Joey Ramone, but it is also live. Sounding just like a Ramones song does, and for obvious reasons, this number has to be my favorite song on the album. Call me a sucker for a Ramones tune, because it's true, but this song just rocks. This had to be a thrill for the band, and believe me, it's a thrill for the listener as well. "Tracks Of My Tears" is a studio song with Steve Soto on main vocals, as well as a cover of Smokey Robinson's classic tune. A punk cover of a great soul song, you can't imagine this until you hear it! Steve does some good soul fusion in his voice, while the band helps convey a slight-soul feeling with a rock 'n' roll attitude. "Confusion" ends the CD with some power-pop.

If you haven't heard 22 Jacks, you should check them out. They have a lot of pop, making them easy to sing along with and enjoy, while they have enough raw energy and power to appeal to the punk rockers. Hearing them cover some great songs is a treat, and so is hearing them live. The addition of new studio material even makes things better. I'll give this an A-.