Ruth Ruth: Who Are They, and Why Should YOU Care?
By: Alex Steininger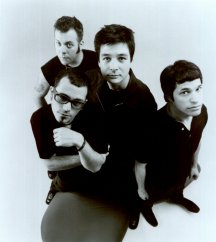 You may have heard about Ruth Ruth through their video for their single, "Uninvited." Then again, you may have caught them during one of their many tours, both opening for big name acts, as well headlining smaller clubs throughout the East and Midwest regions.

But, then there are those that haven't even had the pleasure of hearing this fine band. So, who are they, and why should you care?

Formed in 1993 with Chris Kennedy handling vocals and bass, Mike Lustig on guitar, and Dave Snyder behind the kit, there was no doubt that what they had was special. Power-pop with a punk bite, they began hammering out numbers and started playing live to small crowds.

With people asking for recorded material, they hit the jackpot when a local record store merchant agreed to give them their used cassette tapes, rather than throwing them out. Quickly dubbing recorded material onto them, the homemade tapes became instant winners with the fans.

Now they were ready to take the next step. Hitting the road to get their name out, their fan base quickly began to rise. With each new show their sound also became more solid. Turning heads everywhere they went, it was only a matter of time before a major label became interested in them.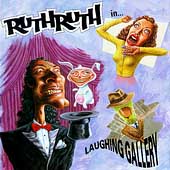 Eventually signing with Venture Entertainment/American Recordings, they released their debut album in 1995 entitled LAUGHING GALLERY. A power-pop masterpiece, it documented the inner thoughts of singer/songwriter Chris Kennedy, from feelings of inadequacy to childhood memories. Once again hitting the road relentlessly in support of the album, they landed tours with Goo Goo Dolls, No Doubt, Sponge, Spacehog, and Mike Watt.
Soon their first single, "Uninvited," began to hit modern rock radio stations and MTV. Taking the airwaves by storm, they watched as attendance at their shows slowly rose, which can be contributed to the single as well as their non-stop touring schedule.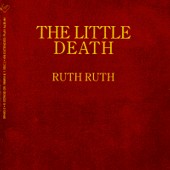 You can only play a song so much before it's time to go in and record new material for the public, realizing this, Chris and company went into the studio to record an EP by the name of THE LITTLE DEATH.
At this point troubles began to erupt with their record label, American Recordings. With permission from their label, they were able to release THE LITTLE DEATH on Epitaph Records, with Deep Elm Records covering the vinyl side of things.
Borrowing from THE CATCHER IN THE RYE, the cover is an instant grabber. Co-produced by Epitaph president Brett Gurewitz, Ruth Ruth's sound began to borrow a little more from the punk side of things, but it still contained the pop hooks that made their debut so great.
While touring to support the EP, problems began to become more and more apparent with American Recordings. At this point they knew their next album wouldn't be with them, but they still had the contract to deal with.
Negotiating to be released from their contract, American Recordings eventually let them go. A sigh of relief was felt throughout the Ruth Ruth camp, but there was no time for partying, touring was still to be had.
When you're on the road or working on songs, being in a band calls for you to spend a lot of time with your fellow band mates. And with the more time you spend with anyone, the higher the chances are that disagreements will pop-up. After differences between Chris and Dave started to surface, Dave left the band.
Now back to the two founding members, Chris and Mike, they decided to re-structure the band and add another guitar player to help strengthen their sound.
Calling upon Michael Kotch, a friend from another band (Eve's Plum), the 'new' Ruth Ruth was on their way. Enter in Christian Nakata on the drums, and you have the current Ruth Ruth line-up.
Now a four-piece, and very excited about how things were working out, they wanted to hit the road once again. With hopes riding high, anything was possible.
The word got out that Ruth Ruth no longer had a record deal, and the feeding frenzy began. Fielding offers from numerous labels, some RCA executives happened to be attendants at one of their live shows one night. Seeing the power and control Ruth Ruth exerted over the crowd, they knew they had to have this band on their label. Entering in the race to sign this amazing band, they eventually won.
With a new label, and ideas swarming around in Chris' head, they took some time off to work on the new record. Not content with just playing power-pop, the band decided to expand their sound and incorporate even more of their influences.
Taking time to get everything right, the outcome is Ruth Ruth's most diverse collection to date. ARE YOU MY FRIEND? still contains a few power-pop tracks, but this time around they've really gone for the gold and dove head first into a wider array of pop melodies and deep emotions. Both Ruth Ruth's best lyrical and vocal album to date (not to mention musical), the new album is definitely a departure from the material of the old.
"I've always been interested in the progression of a band's music from album to album. How did the Clash go from their first album to SANDINISTA!?" explains guitarist Mike Lustig on the new ground Ruth Ruth has decided to cover on their new album.
Such songs as "Her From Planet Fur," "Agent 99," and "If I Can't Have You" call upon a softer, pure pop sound reminiscent of the 50's and 60's, with a modern rock touch lurking behind everything, while tracks like their first single, "Condition," "Cadillac, Michigan," and "Ponies" show a perfect blend of where they've been and where they're going. But don't forget "Brainiac," originally released on a 7", which gives a nod to past Ruth Ruth material.
"I'm happy with where we're at as a band now, and I'm proud of this new album, says Kennedy. "So, now I just want to get back out on the road!"
With an album this explosive, covering more ground than any pop album I've ever heard, Ruth Ruth will be a band to keep your eyes on. With ARE YOU MY FRIEND? scheduled for release on August 25th, this band will be on the minds of music lovers everywhere come fall.