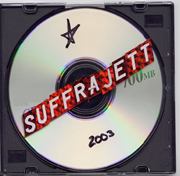 Tracks
1. Love Me More [MP3]
2. Whatcha Got
3. The Drugs [MP3]
4. Sorrow
5. Sticks
6. Gone
7. C'Mon
8. NY
9. Cry Baby
10. D.L.S.
11. Between You and Me [MP3]
12. Get Away

Suffrajett
Suffrajett
Suffrajett's BIO

Suffrajett cranks out fuzzy, distorted rock with enough melodies to keep you hooked, and enough garage roughness to get the hip kids drooling. Fueled by the sweetness-turned-retaliation of lead singer Simi, Suffrajett rockets into a world where post-punk meets garage-rock. Here, the melodies matter as much as the lyrics, reeling the listener in for an explosive ride they won't forget.

Hailing from New York, Simi (vocals / violin), Kevin Roberts (bass), and Jason Chasko (guitar), and Scott Freeman (drums), the quartet known as Suffrajett, avoid being just another garage rock band with their self-titled debut. The record is an explosive, guitar-driven display of their garage rock prowess. However their sense of melody and knack for writing infectious songs coupled with front woman Simi's confused, if not sometimes venomous songs about failed relationships, boyfriends that just didn't care about her, and unmet expectations ensure that this is anything but ordinary.

Suffrajett is 12 songs of rock 'n' roll, plain and simple. Female-fronted, sexy, and explosive, this is a band that has balls. From the opening number, "Love Me More", which proclaims, "If this is really love, I think it's overrated", through "The Drugs", which asks, "Do you think the drugs make you feel better?Š Will you love me tonight?", Suffrajett keeps you enthralled from start to finish.

The songs have grit, they have teeth, and they don't pull back the punches, calling it as they see it. Letting the guitars rip as they pound out loud songs with a lot of energy, somehow Suffrajett never lets go of their melodic sense. They play equally to pop and garage rock audiences, recalling the glory day of mid 90's alt-rock a la Veruca Salt and other like minded bands, all without sounding out of place in the New York scene that is also breeding the likes of The Strokes.

That's because Suffrajett has personality and a voice, ensuring their songs are never indirect or elusive, each number easily accessible, making you want to sing along, while also touching you as you relate to them. Suffrajett is a batch of songs that instantly grab you, something lacking from a vast majority of music today, and furthermore, once they grab you, you don't want to stop, relating and feeling exactly what Suffrajett is singing about.

Suffrajett's press shot

Suffrajett's Official Site

Suffrajett's BIO



Suffrajett full-length): http://www.suffrajett.com/images/lovememore.mov.

VIDEO: "Down and Out" (unreleased song): http://www.suffrajett.com/images/lovememore.mov.