PODCAST: MastanMusic
Episode 9 (MastanMusic)
By: Jeremy Wilson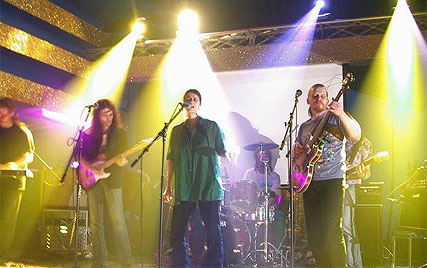 This week on Episode 9 of the MastanMusic Hour, we have Umka live in our studio all the way from Russia. Anna Gerasimova and Boris Kannunikov have a vast catalogue of songs they've been writing and performing together since 1995 and we're excited to bring them to you live from Portland, OR.



Part 1 of Episode 9 features artists from Portland's venerable house of sound, In Music We Trust, with founder Alex Steininger guest-hosting! This week's playlist includes Fernando, Chris Tsefalas, The Maroons, The Slow Signal Fade, and the aptly-named I Can Lick Any Sonofabitch In The House.

mastanmusic podcast link -- subscribe to our podcast.

Check out our Podcast page for more info on the artists and music featured in episode 10, and downloadable mp3s of our podcast.

In Music We Trust Showcase with Guest DJ Alex Steinginger Featuring Fernando, Chris Tsefalas, The Maroons, The Slow Signal Fade, I Can Lick Any Sonofabitch In The House.

[28.6mb mp3] MastanMusic Hour - Episode 9 - Part 1 28.6mb mp3





Part 1 of Episode 9 is a special showcase of artists on In Music We Trust Records. And sitting in as a guest DJ to tell you all about it is In Music We Trust founder, and bastion of indie cred, Alex Steininger.
Chris Tsefalas collaborates with John Moen (Maroons, Stephen Malkmus and the Jicks, Elliott Smith) and famed Portland producer Larry Crane of Jackpot! Records to bring us the infectiously catchy tunes on his latest album, "I'm All Right?"
John Moen's own group The Maroons brings a dose of verve to the realm of indie pop with their intoxicating melodies and reverie-inducing hooks. Bringing their talents to the table with The Decemberists' Moen are Mike Clark (Stephen Malkmus and the Jicks), Jim Talstra (Minus 5), John Cox (Satan's Pilgrims), and Eric Bennes.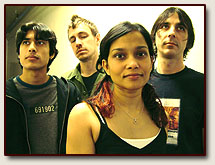 Next up is LA's The Slow Signal Fade, who create a tidal wave of sound that's got us gazing pretty happily at our shoes. Their tunneling, dark, cinematic vibe has been brought to recorded life by producer Steve Albini (Nirvana, Pixies, PJ Harvey). The SSF is Marguerite Olivelle (vocals), Aaron Vishria (drums), Chris Walters (bass), and Ron Ulicny (guitar).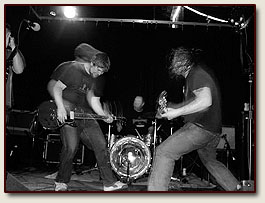 In the best sense of the word, is Portland's own I Can Lick Any Sonofabitch In The House., who will throw you straight back to a time when rock didn't just roll, it barreled at you and knocked your ass down in a mullets-flying barroom brawl. Since 2002, Mike D, Handsome Jon, Mole Harris, Flapjack Texas, and David Lipkind have cut through the local scene with loud, no-nonsense blue collar rock.
Part 1 of Episode 9 begins and ends with Fernando, who has been a Portland gem for the past 12 years, writing music that distills multiple rock and pop forms into a fresh and unique sound. This week's episode features two songs from Fernando's (a moniker which includes Lewi Longmire, Paul Brainard, Qwee, and eels' Jeff Lyster and Derek Brown) latest album, "Enter to Exit," a tour de force of lush harmonies and unapologetically melancholy songwriting that has had critics singing their praises.
Title - Artist - Where
Howard Hughes - Fernando - 00:10
Back To Bed - Chris Tsefalas - 06:42
Ruin Everything - The Maroons - 09:19
TBA - The Slow Signal Fade - 16.04
Gone - I Can Lick Any Sonofabitch In The House - 19:57
One Trick Pony - Fernando - 25:38
Anna Gerasimova and Boris Kannunikov of Umka
[25.7mb mp3] MastanMusic Hour - Episode 9 - Part 2 25.7mb mp3
In Episode 6 we introduced you to the powerful Russian rock of Umka. Here in Episode 9 of The MastanMusic Hour, we bring you a more intimate and stripped down live session with Umka's frontwoman, Anna Gerasimova, and lead guitarist, Boris Kannunikov. Umka ("a smart girl who's like a little bear") was a nickname given to Anna Gerasimova in 1986 during the Soviet hippie revival. Twenty years, 400 songs, and around twenty self-released recordings later, Umka has evolved under different names (Bronevichok, Bronevik, and Bro) and on indie label Otdelenie Vykhod, promoting the themes of friendship and poetry in songwriting evocative of rock and folk of the 60s and 70s. They've played around the world, from Siberia to Oregon, all for the grand purpose of rockin' out. Their philosophy is simple; in Anna's words: "We've got no managers, no promoters, no producers, no press agents, no radio play, just plenty of friends all over the world, who are eager to help."
Title - Artist - Where
I Was Always With My People - Umka - 01:19
Fish of Glass - Umka - 07:07
Don't You Worry Mama Nothing's Gonna Be Alright - Umka - 11:10
Bicycle - Umka - 16:54
California - Umka - 21:15