Mest
Photographs (Maverick Records)
By: Mark Fisher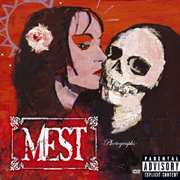 I love it when a band that is obviously talented but has a flare for the goofy gets serious. Such is the case with the latest release from Illinois rockers Mest. Photographs is the band?s fourth release and it?s been a longtime coming. Since the success of 2003?s self-titled album the band has toured the world, endured personal tragedy (including vocalist Tony Lovato nearly being paralyzed and having to have emergency back surgery), and come out on top. Photographs is miles ahead of the band?s last release.

The album opens with the straight up melodic rock of "Take Me Away (Cried Out To Heaven)." Leaning less on emo and pop punk influences than ever before, it?s obvious from the start that this is not going to be a rehashing of the band?s self-titled album. "Kiss Me, Kill Me" and the title track follow and by the end of these three songs you know that the band has something to say this time around. "Kiss Me, Kill Me" and "Photographs" both lend themselves to the new wave revival of bands like Interpol and Franz Ferdinand without losing Mest?s identity or heart in the process. The band continues to explore that aspect of their sound throughout the album but intersperse it among more rock oriented songs. The pop punk element that many associated with Mest is present still but it?s fairly far below the surface musically. That aspect is predominantly felt in the over the top style vocal harmonies typical of pop punk genre bands like Blink 182, Relient K, Newfound Glory, and Last Tuesday.

The band is not afraid to get heavy lyrically on this album either and this is probably the thing I find most impressive about Photographs. "As His Black Heart Dies," "Tonight Will Last Forever," and "Graveyard" are all heavy lyrically but manage to steer clear of being depressing due to the dark but victorious musical backdrops.

The album?s closing tune, "Last Kiss" is probably the most powerful song on the album. This song really sums up the album, paying homage to Mest?s past as well as what I hope their future turns out to be. This is a superb song that will satisfy fans of all of the songs on the album. It?s dark, victorious, melodic, and high energy from start to finish.

Mest is one of those bands that in 2003/2004 I would have thought would fade into obscurity. Photographs has definitely made me rethink my analysis. I can?t wait to see what heights this band could soar to. I hope this one isn?t a fluke.