DVD: Fraiser
The Complete Sixth Season (Paramount Home Video)
By: Alex Steininger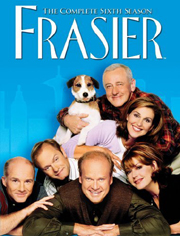 You got to hand it to Kelsey Grammer. At this point he?d been playing Fraiser Crane for nearly twenty years (eighteen years, to be exact).

And, yet, somehow it didn?t get old. He was still a very lovable, endearing, if not beautifully pompous character we have loved for well over a decade.

Season Six, a four-disc collection, highlights a few key changes in the Fraiser empire, namely Niles? divorce and his more than casual pursuit of Dafney, as well as Niles? move from the plush surroundings to a dingy apartment with the bed hidden in the wall.

Fraiser loses his job. Then gets re-hired. Even when he?s down, he?s still as full of himself and self-righteous as ever, but, again, that?s one of the reasons we love Fraiser Crane!

Season Six is business as usual for Fraiser, with the plot twists, character variations, and obstacles neither obtrusive nor hindering, allowing each character to be themselves and revel in their own brand of comedy. It?s full of laughs, good times, and, as any good writing will do, draws you in even deeper to these characters? lives and daily rituals.

I?ll give it a B.