Hermano
Dare I Say (Meteor City Records)
By: Vinnie Apicella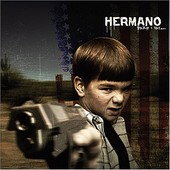 It still never ceases to amaze me how popular Kyuss became once they called it a day some ten years before. Individually, the group members have gone on to achieve further success in groups like Fu Manchu, Queens of the Stone Age and Mondo Generator, among others. Fans from the early days may recall Hermano, an underground creation, among many, involving John Garcia, highly regarded frontman from Kyuss and the epitome of all things stoner, blues and biker. They were an obscurity that came and went and sold some 8,000 copies on their own without much traditional promotion. And as with all things that sprung from the abundant well that was Kyuss, Garcia's become as legendary as his former group, as a singer/songwriter, respected among the many who've followed. And Hermano exists again.

Opening with the screeching "Cowboys Suck," the record peels out with a burning ambition to prove the first time was no sloth-- and thanks for your patience. It's a song less to do with cowboys sucking and more to do with spinning the wheels of life-- with four on the floor and the accelerator constantly pinned. The next few tracks ride a steady rolling riff, compliments of guitarist Dave Angstrom and the bludgeoning bass-beating of Dandy Brown, pure passion packed into easy to swig mouthfuls of nitrous and Jack and a few of life's lessons thrown in for extra blues appeal.

"Go motherfucker, motherfucker go--" sets the theme for "Quite Fucked," picking up the trail from their "Cowboys" tune and combines two-minute punk rants with desert-dwelling that doesn't let up until the motherfucker's gone. "Murder One" is an acoustic stab at country / western full with handclaps and haunting echo for subversive effect. The album's got an angry overtone, finishing with a flurry by way of "Angry American" which is as close to early "Wretch"-style Kyuss as probably anything Garcia's done since the underappreciated Unida project a few years ago. This one blisters worse than the pale skin on your arm dangling out the driver's side window for the day long cruise on I-40 eastward into Phoenix. "Let's Get It On" rises to the top its quick pace and catchy, uptempo character that's good to go with any and all unvirtous vices.

While the musical tones are undeniably bluesy and psychedelic, there are spurts of pure aggression not commonly associated with many post-Kyuss projects plugging more variety than the typically first to second gear shift and sluggish pace of the stoner path. Dare I Say-- says it, screams it, then backs it up with its musical fists clamoring for a one-on-one with any of the mainstream darlings who'd dare to doubt them for a minute. Hermano Rocks like they mean it.