Herman Jolly
Mad Cowboy Disease (Self-Released)
By: Alex Steininger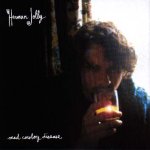 Best known (or not known at all) for fronting the new-wave/power-pop outfit Sunset Valley, Herman Jolly takes a breather from the vigorous workout of infectious hooks that make Sunset Valley such a vibrant band to record and release his debut solo country/folk album entitled MAD COWBOY DISEASE.

Of course, even while he plays country tunes, he can't hide his natural gift for creating clever hooks that you just want to sink your teeth into while you sing along. Such is the case with "Crooked Vein," a song about alcohol and women.

In a soft, fragile tone Herman sings "I met you on Main Street, and you became my main dream" with such passion you can't help but fall in love with his tender approach to emotions and music. And, as the song progresses, you wrap yourself up more and more in his tale. Slide guitar and acoustic guitar play the part of a perfect team. The acoustic guitar slides the hooks your way with such a gentle approach you can't resist, all while the slide guitar twinkles in the background giving the song an enriched sound that will have you drinking at the bar spilling your soul about your own love woes.

"Lady's Hands" find Herman even deeper into the country flavor. Where "Crooked Vein" showed signs of pop, "Lady's Hands" leaves all that at the door and continues forth with some more lyrically strong country licks sure to accompany your beer or whiskey just fine. A little more complex in terms of figuring out just what he was thinking when writing the lyrics, his voice still keeps the essence and spirit alive and kicking. The slide guitar and faint percussion also play a role in the song, giving it a rougher edge, while never letting go of the intimacy which makes Herman's songs go over so well with the listener.

With the re-occurring themes of getting drunk and having love go bad, "Drunk" pours out another round of earthly pure and innocent words on top of a delicate layer of curiosity that seems to almost break as the guitar is strummed. As you sit there and listen to the song, fixated on every word slipping out of his mouth, you can't help but know how he feels. His words are so well written you feel as if you could have even been the one in this situation.

Not every song deals with drinking and women, though. "Gin Kicks In" lets loose with a portrayal of life through alcohol-stained eyes. Playing his acoustic guitar with hard strokes, rather than the light ones he normally plays with, the song muscles up the usual country/folk faintness with some steam, creating a nice backbone that gives everything a more motivated, harsher edge -- perfect to convey the message of a drunk man staggering around town taking notice of life around him.

Then there is the all out craziness of "Woodshack Willy," a song about local country-rock heroes Richmond Fontaine's frontman, Willy Vlautin. Get your toes tapping, lips moving, and drinks out, because here is a country party song that is a tale soon to become legend. The chorus rings in your eyes with the words "Willy Vlautin's hidin' in my woodshack, he got drunk and broke the sheriff's jaw. Threw his guitar through the courthouse window, he's the countriest western singer I ever saw." Inescapable, this has to be one of the hottest tracks on the disc.

Finishing up with "No Joy Bad Luck Club," Herman invites Pinehurst Kids' frontman Joe Davis into the recording session handling the drums, as well as fellow Sunset Valley band mate on bass and organ. Spicing things up a bit, the album closes out with some true country rock.

Not only has Herman proven himself as a talented songwriter in Sunset Valley, but he has also proven he can handle the solo thing as well. A remarkable musician, 1999 just might be his year. Otherwise, something's wrong. I'll give this album an A-.