Genghis Tron
Cloak of Love (Crucial Blast)
By: Jeb Branin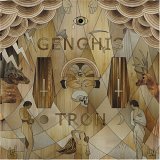 Almost every CD that comes in for review has a press sheet that draws comparisons between the band at hand and other, usually better known, bands in an attempt to put the music in context. Also, it should be noted, in an attempt to influence the reviewer by planting favorable comparisons in their mind. So image my consternation when I get GENGHIS TRON the bands used to draw comparison include the likes of BRUTAL TRUTH, NAKED CITY, DEPECHE MODE, and ERASURE. Depeche Mode and Brutal Truth? What the hell is that?

So I slide the disc into my computer and low and behold GENGHIS TRON sounds like Brutal Truth doing Depeche Mode tributes. This is absolutely unlike anything I have heard before. The collision of the extreme and the sublime is completely unique. The best way I can think to describe it is to imagine digi-grind marauders DATACLAST having an episode of multiple personality disorder. Or better yet, just look at the name of the band - think "Ghenghis" for the murderous speedcore bent on invasion and destruction and think "Tron" for the computerized esoterica and electronica.