Genitorturers
Machine Love (Cleopatra)
By: Alex Steininger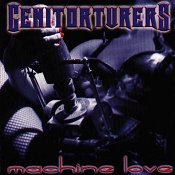 Four new songs (one being a cover) and four re-mixed versions of tracks off of 1998's Sin City full-length, The Genitorturers are back with their hard, driving modern rock, mixed in with supple industrial and electronica elements as they turn you on with mental imagines and sure-fire music to make you hot.

"Stitch in Time" instantly makes you lust the band. Gen's vocals are naughty and nice, turning you on and playing with your mind, but still capable of packing the seductive punch that makes the band roll. The title track will make you climax. With it's catchy, intriguing industrial beat and sheer force, the song lures you in with sex on the mind and a hard rhythm in your body. When Gen sings "I'll be your cheap slut savior/ I'm the one who makes you want it!" you about nearly orgasm right there - man or woman. Her voice is too passionate, lusty, and hot not too.

Leave it up to The Genitorturers to turn a cheesy 80's love classic into a dirty porn-dustrial rocker. Covering the Divinyl's "Touch Myself," Gen and crew turn this into one naughty song that, just for listening to it, you should be spanked.

The four tracks off of the band's 1998 full-length, "Sin City (KMFDM Remix)," "One Who Feeds (Dave Ogilvie Remix)," "4 Walls Black (Razed in Black remix)," and "Asphyxiate (Interface remix)" find the band delving deeper into electronica, while still making sure things rock. "Sin City" will get you dancing and spinning while "Asphyxiate" will leave you pondering what reaction to have. The music is dark and steamy, more Goth than industrial, but the electronica dance beat still comes through, and industrial blood runs through the song, leaving you with so many options and a fear of them all.

If you haven't heard a band that made you want to orgasm while listening lately, then you haven't been listening to the right stuff. Gen and the Genitorturers get all the reactions they want out of you. Your jaw will drop, your pants will get wet, and your mind will race into one thousand different thoughts. This is primitive, modern rock at it's best. Primitive thoughts coupled with modern beats and you're all ears, I promise. I'll give it an A.