South by Southwest Music Conference 2005
By: Gray Gannaway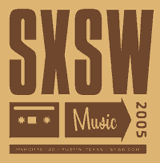 SXSW 2005's Music Convention was packed full of interesting panels, keynote speeches, and mentor sessions. Unfortunately, we were only able to secure passes to one day of the music convention, and choosing that day was difficult because there were amazing events throughout the week. We ended up settling on Thursday, which began with a keynote speech from Led Zeppelin's Robert Plant. Mr. Plant had several interesting things to share, but the highlight of his speech was when he mentioned that he donated a chunk of money to a Portland radio station after they announced on the airwaves that they would never play "Stairway to Heaven" again (he followed up by saying that he liked the song, but that he had heard it before).

I was invited to a special demo and Q&A session for the brand new, highly anticipated SNOCAP system, the most recent creation of Shawn Fanning (founder of the original Napster). SNOCAP is a manifestation of Shawn's desire to regulate the Pandora's box of peer-to-peer file sharing he opened with the invention of Napster. Record labels and sound recording owners can have SNOCAP register their recordings and take "acoustic fingerprints" - this allows SNOCAP to not only detect these files when shared on peer-to-peer networks, but can also often positively identify matches such as live bootlegs of those recordings, demo versions, and cover versions (a little scary, huh?). These "fingerprinted" files are freely distributed over peer-to-peer networks that have agreed to abide by SNOCAP's rules, and when a user tries to download a copyrighted file they must comply with the price and terms that the sound recording owner defines. Not only can labels sell their own files via SNOCAP-enabled P2P networks, but they can also register any positively identified matches so that they can actually make money from selling illegal bootleg versions of their music found in the networks.

Next was a panel focusing on one of the hottest new topics in the music industry: ringtones. However, pretty much everything that was said has already been well covered in recent media, and as a person who is primarily focused on independent music I can't help but point out that while ringtones may be providing a considerable income stream for the music industry, that money is really going to a very concentrated group of the highest-grossing artists on the major labels. Plus, ringtones can be annoying as hell. Next panel.

I wrapped the afternoon up with the "2 Legit 2 Quit - Models of Digital Distribution" panel. Panel members included Alex Luke from iTunes, Chris Castle from SNOCAP and ex-A&M Records attorney, Ted Cohen from EMI Records, and a few other notable members of the industry. While this is another topic that has been discussed to death over the past year, it was interesting to get the diverse range of thoughts and opinions from major label execs, indie supporters, technology whizzes, and a representative from the world's most successful digital download store. The panel peaked in discussions about the merits of the major label model that are still relevant in this increasingly digital age, the point at which a moderately successful artist should consider taking their business and promotion back into their own hands, and how artists can jumpstart their careers without the help of any major label or A&R support.

On to the music. SXSW did a great job of collecting some of the biggest names in independent hip-hop this year (plus a few major label rappers, namely Scarface). Not only did the festival host several well known DJs and electronic artists, such as Austin native Nick Nack, DJ Z Trip, Ninja Tune/Big Dada's Diplo, and other heavyweights like the legendary DJ Rhettmatic of the Beat Junkies, but several showcases were headlined by both well known indie hip-hop icons and new up-and-comers. Portland also had some local representation from Old Dominion's Sleep, who rocked the mic at one of the festival's best hip-hop events at Flamingo Cantina.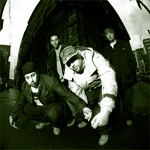 Alex and I were lucky enough to stumble into the Cantina during the middle of an unannounced Non-Phixion set that had the room shaking. Non-Phixion is a group of 3 Brooklyn emcees and DJ Eclipse, and they've been on the scene since the early nineties. Discovered by MC Serch of 3rd Bass, the group hopped labels for most of the past decade before launching a few of their own labels (Uncle Howie Records, Psycho-Logical Records, etc.), and their hard work has paid off in a string of successful singles, an underground cult status, and a dedicated, sizeable following. This may be the first non major label hip-hop act to win over IMWT's Alex Steininger, which says a lot in itself.
The biggest, baddest showcase was appropriately held on Saturday night at Emo's main room and was hosted by El-P's Definitive Jux label. I wasn't sure if I'd even be able to make it in, since most of the best events at SXSW fill up to capacity quickly, leaving lines of disappointed fans wrapped around buildings. Luckily, I was able to slide in and shove my way to a decent position easily even though I showed up late.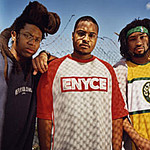 Unfortunately I missed an all-star cast of openers, including Diverse (one of my favorite new artists, currently on Chocolate Industries), Rob Sonic, Hangar 18, and C-Rayz Walz, one of the best freestylers around today. I did catch The Perceptionists, comprised of Def Jux's Mr. Lif, Akrobatik, and DJ Fakts One. Their debut album Black Dialogue was dropping the following Tuesday and they've generated a lot of buzz as one of DJX's new premier artists - add the fact that their debut features Guru from Gangstarr, El-P, and Humpty Hump from the Digital Underground, and you can understand why expectations were high. Personally, I'm not feeling these guys quite as much as some of their label mates (cough..Cannibal Ox..cough), but their live show is energetic and both Lif and Akrobatik have undeniable stage presence.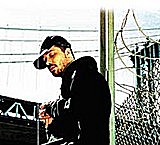 On to Aesop Rock - one of the few men currently lounging on top of the underground rap scene. While other emcees cram to put together material that has something to say without being overly intellectual and nerdy, Aesop effortlessly drops albums and singles (which he mostly produces himself) packed with enough metaphors and hidden messages to keep a listener uncovering new meanings for months, without losing the head-nod/accessibility factor. His live set comes off the same way - it seems like he could do the shit sitting down, half asleep, and still son 99% of the rappers in the game today (DJ Wiz also played no small part in keeping the set live). Unfortunately, Aesop was the bearer of bad news for hundreds of kids packed into Emo's - MF DOOM, the headliner that drew much of the crowd out in the first place, had skipped town.
So I guess I did well when I skipped one of my panels Thursday to catch an unannounced DOOM set. I showed up at the club (Exodus, I think) and of course there was some kind of special list you were supposed to be on to gain admittance. The list bearer was cool enough to let me through anyway, and I got in halfway through DJ P's eclectic set. P mixed everything from Mobb Deep to Nirvana to Afrika Bambaataa, and kept the crowd interested while everyone tried to contain themselves in anticipation of the Villain. Soon, another DJ took over the tables - and when he appeared on stage wearing a facemask bandanna with eyeholes cut out, everyone knew what was about to happen.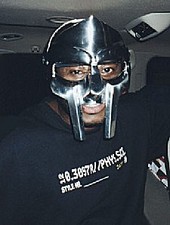 Quick bio: Zev Love X, founding member of KMD (also "discovered" by 3rd Bass) lost his brother and partner Sub Roc in an automobile accident in the early nineties during the recording of their would-be seminal album Bl_ck B_st_rds. Coupled with the fact that KMD's label dropped the group when they turned in the brilliant album due to its artwork - a drawing of Little Black Sambo hanging from a noose on the cover - Zev disappeared from the scene. It was a critical time in hip hop, and some speculate that KMD would've been as well known as household names like A Tribe Called Quest, De La Soul, and Brand Nubian had their label not blackballed them. Fast forward 5 or 6 years, and some unknown emcee keeps showing up at local NYC cyphers tearing rappers apart and wearing a stocking over his face. Zev had mutated into DOOM, the master of all styles, an alter ego packed with alter egos - such as King Geedorah (his Big Dada alias) and Viktor Vaughan (whose beats are a bit slicker and more electronic).
As soon as DOOM crept on stage, complete with his iconic metal mask, the crowd erupted. DOOM plowed through old songs, new songs, everything except for KMD and Viktor Vaughan tracks (at one point he asked the crowd what they wanted to hear, and when cries of "Vik Vaughan" reached his ears he replied, "Vik ain't here. I ain't seen him..."). But we were blessed with some of the best cuts from his born-again debut LP M Operation: Doomsday, his King Geedorah full-length Take Me To Your Leader, and his newest release Mm Food (Rhymesayers). The crowd would hardly let him get off stage, despite ugly looks from one of Helmet's backstage roadies. That's right...Helmet played after DOOM. A great pairing, and while I love and respect Helmet's music, most of the crowd couldn't have cared less for anything other than MF DOOM and lost all interest once he left the stage.
I was amazed at how many incredible artists SXSW lined up this year. All that being said, I still unfortunately missed multiple afternoon and evening sets from Saul Williams, Buck 65, Zion I, and Busdriver. That's the tragic part about SXSW - no matter how many mind blowing acts you get to see, you miss even more. Oh well, there's always next year...