Tegan & Sara
So Jealous (Vapor Records)
By: Alex Steininger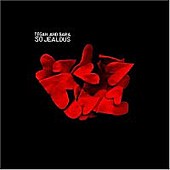 Twin sister duo Tegan and Sara's latest, So Jealous isn't as immediately grabbing as their breakthrough record, If It Was You. However if you give it some time it is equally as compelling, ripe with the same emotions that made If It Was You such a tremendously memorable record. The duo's lyrical insight, heart-gripping sagas of loneliness, scorned loved, and confusion are still here, if not even more so, and their undeniable sense of melody, song structure, and ability to switch up between post-folk mellowness and indie-rock uproar more captivating than ever.

Opening with "You Wouldn't Like Me", things start rocking out of the gate, building from the humble beginning of acoustic guitar and voices to the full-band that kicks in half way through the song. And from there the band doesn't let go.

"I Bet It Stung" fuses post-punk guitar noise with the poise of a mid-tempo pop song, while "Where Does The Good Go" is a tender, poignant pop song that builds into a glorious number. And "I Won't Be Left" proves that the duo is a more than capable rock act, with an appetite to write fierce, but tender songs that are as loud as they are gentle.

"Walking With A Ghost" is the album's runaway hit, a hook-laden, bona-fide pop ditty that snags you on its riffs and then reels you in with guest keyboard player Matt Sharp's of Weezer, Rentals fame) subdued new wave organ, which gives the song a bright flash.

The haunting title track is another stand-out track on this album of stand-out tracks, its tender verses quickly turned upside down and into a full scale rock attack. Sharp's keyboard guest appearance on "Speak Slow" helps give the power-pop bounce of the song a gentler, mellow hush, contrasting the song perfectly and making it that much more addictive.

Growing graciously into their own sound, Tegan and Sara come full circle and revel in their creativity on So Jealous, growing and maturing while still retaining the youthful exuberance, playful charm, and subtle naivety that has made them a growing sensation. This record is near flawless and one of the best of 2004. I'll give it an A+.