Teenage Frames
1% Faster (Jump Up! Records)
By: Alex Steininger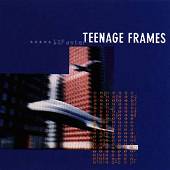 The Chicago-based quartet, Teenage Frames play blistering powerful rock 'n' roll in true Max's Kansas City and CBGB's fashion. That's right, despite being from Chicago, Teenage Frames play sweaty New York rock 'n' roll that will knock you on your ass and make you think twice before calling rock 'n' roll dead.

The only problem I have with this CD is the vocals. They seem to try way too hard to sound "punk", complete with fake snarl and grit in the throat. But, the music is gritty enough, the vocals don't need to try and over compensate. Songs like "Drug Power," "I Want To Go Out Tonight," "Just Can't Seem To Take It," "Dopesville," "Teenage Letdown," and "Back to Motor City" all emphasis the "sex, drugs, and rock 'n' roll" attitude towards life. So, there is really no need to try and push the feeling any further.

Teenage Frames are quite the rock 'n' roll act. They can shake, groove, move, and party like no one else; they're quite entertaining and thrilling. But, the damn vocals ruin it for me every time, hence I wasn't able to get into this album. Great music, the vocals just need work; I'll give it a C.