Bjork
Medulla (Atlantic Records)
By: Alex Steininger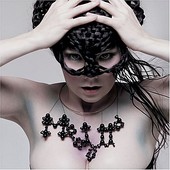 On her latest, Medulla, Icelandic sensation Bjork delivers a record that is Bjork through and through. Spacious and methodical, every note, every voice, every whisper - everything - is put into place neatly, creating an understated record that is as much meditative as it is slumbering.

Slowly drifting by, one song flows into another with such grace and poise, at times it feels as if you're listening to one long song that changes course fourteen times during the duration. And that isn't to knock the record and say all the songs sound the same, quite the contrary.

The songs on Medulla create an album, not just a collection of songs, giving it the timeless quality of sounding much stronger when played from start to finish, rather than selecting tracks and listening to them on your own.

This is a relaxing, inspired, and very soothing musical offering, an airy record that recalls late-nights growing into the early morning. It is the sound of Bjork, the sound of her voice in the wind as she walks by you at night, both of your glances catching each other as you stop, looking quickly, and then walking on by. A passing of a total stranger, one you never think about again, until the next time it happens, and even then the thought is fleeting.

That is Bjork's music, and Medulla exemplifies those feelings, those untapped thoughts and encounters, more than anything else. I'll give it an A-.